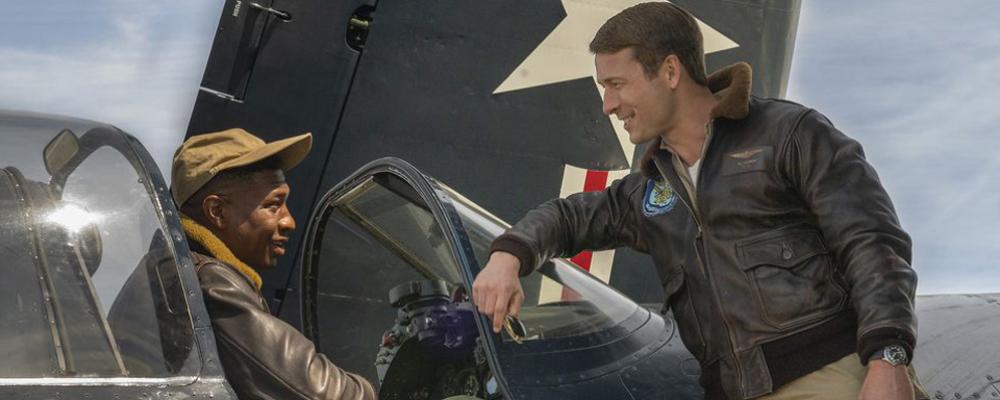 The new movie "Devotion" details the heroic efforts of Navy Capt. Thomas Hudner Jr., who purposely crash-landed his own aircraft while attempting to rescue a fellow naval aviator who was downed during the Korean War.
Tragically, Ensign Jesse Brown — the first African American to complete Navy flight training — didn't survive.
Yet Hudner's bravery earned him the U.S. military's highest award for valor — the Medal of Honor.
The Georgia Air National Guard's 165th Airlift Wing supported the movie's production March 12-15 and March 27-29, 2021, helping transform Hudner and Brown's story into cinematic magic.
Readers can see a trailer for the film the 165 AW assisted here.
"The filming could have been done without military support, but the contributions of the 165th Airlift Wing enabled the Department of Defense the opportunity to be a part of the coordination process, ensuring an accurate depiction of the events being portrayed," said Christine Thompson, a National Guard Bureau entertainment liaison.
Military officials authorized the production team to "set dress" all locations with the equipment, props and wardrobe that viewers would expect in a war movie occurring more than 70 years ago.
Officials also vetted, cleared and authorized the civilian aircraft shown in the movie to land at Savannah Air National Guard Base, Georgia, the 165 AW's home station, and used a hangar there during filming.
Beyond logistical support, Georgia Air Guardsmen provided escorted access for about 250 production personnel.
"The U.S. military has assisted motion picture productions since 1927, even working on the first movie ever to win the best picture Oscar, 'Wings,'" said Alán Ortiz of DoD's Entertainment Media Office.
"We're especially proud of the support the National Guard and Navy have given to this movie, helping to get this incredible true story to the big screen so Americans can learn and be inspired by it," he added.
Besides portraying Hudner's efforts to save his wingman, the movie depicts some of the adversity Brown faced.
"The contributions of Black service members are central throughout the history of the United States, back to the Revolutionary War," said Chief Master Sgt. Maurice L. Williams, the command chief of the Air Guard.
"However, leadership opportunities for Black service members were sparse," he continued.
"The armed forces did not fully integrate people of color until after World War II."
To thank the Guard for aiding the production, Senior Enlisted Advisor Tony L. Whitehead, the NGB chief's SEA, attended a Nov. 17 advance screening of the movie.
"This was not a light undertaking for the Georgia National Guard, and I am proud that our Guard members contributed to honoring the valor and heroism depicted in the movie," he said.
— Based on a National Guard Bureau Press Release