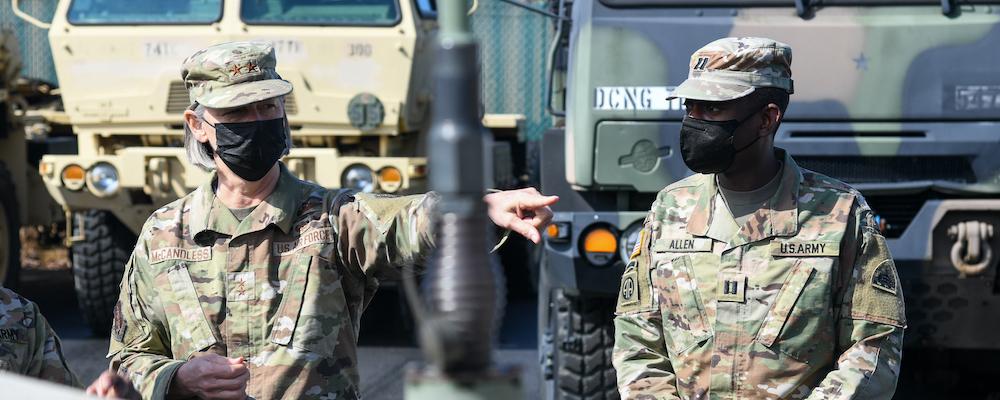 Upwards of 700 National Guard could assist local law enforcement during planned protests in the nation's capital this week.
The Pentagon approved the mission last week as Washington, D.C. braces for possible demonstrations against pandemic restrictions modeled after recent trucker protests in Canada that shut down border crossings and brought Ottawa to a standstill.
The D.C. Metropolitan Police Department and U.S. Capitol Police each requested Guard support with traffic control. Defense Secretary Lloyd J. Austin III approved up to 400 members of the District of Columbia National Guard and 300 personnel for outside states.
"The people who live, work and visit the District are part of our community, and their safety is our first mission priority," said Maj. Gen. Sherrie L. McCandless, the commanding general of the D.C. Guard. "Our MPD and USCP partners have asked for our help in ensuring people can demonstrate peacefully and safely, and we stand ready to assist."
Meanwhile, fencing similar to was erected last year for the inauguration has been placed around the Capitol grounds. USCP Chief Thomas Manger said it was put up "out of an abundance of cautions."
Guardsmen are expected to provide support at designated traffic posts and Capitol entry points while also providing command and control and covering sustainment requirements. The mission is approved through March 7.
In addition to the protests, Guardsmen will also augment security for President Joe Biden's State of the Union address March 1.
The D.C. Guard will also provide 50 large tactical vehicles for the operation. Other states contributing forces include Vermont, New Jersey and West Virginia.
None of the Guardsmen will carry firearms or take part in law enforcement or domestic surveillance activities, officials said. And every deployed Guardsman will be fully vaccinated against COVID-19 and be subject to COVID-19 protocols.
New Jersey Gov. Phil Murphy announced his state's involvement in the mission last week.
Murphy, a Democrat, noted the state has sent troops to D.C. twice in recent years. Once in June 2020 amid demonstrations against police brutality and racial injustice and again in January 2021 following the deadly attack on the U.S. Capitol.
"We don't let politics get in the middle of decisions over whether to accept requests like that," he said. "We did during the Trump administration to protect monuments, and we're doing it in this case, I assume, to make sure we don't see what happened in Ottawa happen in our nation's capital."
New Jersey is sending 100 Guardsmen, the same number as Vermont, which is deploying part of the 86th Infantry Brigade Combat Team (Mountain) and the 172nd Public Affairs Detachment. West Virginia is expected to send about 80 troops.
"Our Vermont National Guard service members continue to step up and serve when called upon," said Vermont Gov. Phil Scott. "Their sense of service is admirable, and I know they will represent Vermont well, just as they did last year when they helped ensure the peaceful transfer of power during the Presidential Inauguration."
The Florida National Guard was also asked to provide troops, but Florida Gov. Ron DeSantis tweeted yesterday that he had "rejected this request."