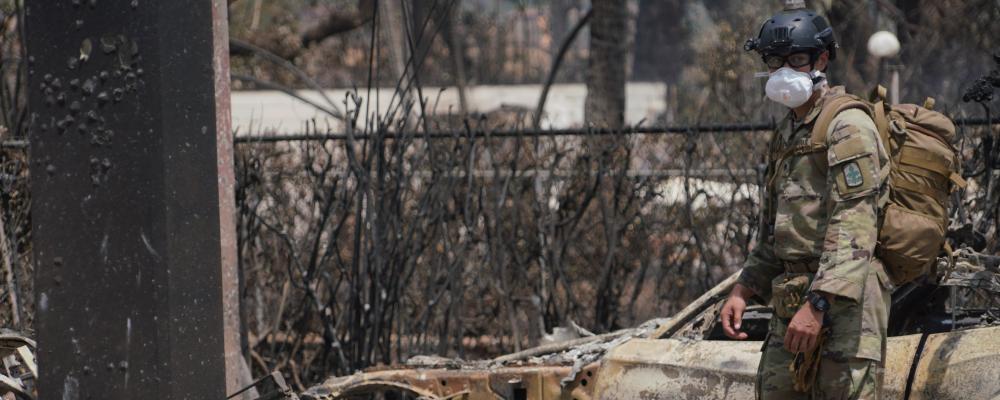 The National Guard is spearheading the Defense Department's relief efforts in Hawaii following the recent wildfires there, according to the Pentagon's press secretary.
Brig. Gen. Pat Ryder said Thursday that Combined Joint Task Force 50 is now at full operational capability, boasting about 700 DoD personnel and 140 Coast Guardsmen.
CJTF 50 is under the command of Army Guard Brig. Gen. Steven Logan after several fast-moving wildfires damaged the island of Maui on Aug. 8.
Worsened by a dry summer and strong winds from a nearby hurricane, the blaze has killed at least 111 people to date and destroyed the city of Lahaina.
Ryder said Thursday that CJTF 50 "is actively synchronizing all DoD support to disaster relief operations."
He added the Hawaii Guard's task force response teams are "trained in a variety of hazardous material response, providing support to search and recovery operations."
"Additionally, Hawaii National Guard personnel continue to support local law enforcement by maintaining traffic control points and providing areas security in Lahaina," Ryder continued.
DoD announced Wednesday that the Hawaii Guard has activated more than 250 soldiers and airmen for duty for the crisis.
The Guardsmen are now providing liaison support to the Hawaii Emergency Management Agency, command and control elements and local law enforcement.
Per Ryder, Army Guardsmen are also flying two CH-47 Chinook helicopters with fire suppression buckets for the relief efforts.
The Chinooks are presently on standby, adding firefighting support to the area upon request.
"Of note, these Army National Guard air crews have already dropped more than 189,000 gallons of water in support of firefighting efforts," Ryder stated.
The tragedy in Hawaii has prompted a sweeping, whole-of-government response. 
The relief efforts include the Federal Emergency Management Agency, Hawaii state government officials and local government officials from Maui.
Besides the Guard, the Pentagon's contributions include the active-duty and Reserve Army, the Navy, the active-duty Air Force and the Marine Corps.
The Coast Guard and the Department of Homeland Security are additionally assisting with Maui's recovery.
DoD personnel are currently performing six approved mission assignments per FEMA's request.
The assignments include providing liaison officers and moving cargo, equipment, personnel and supplies between Hawaii's islands via air and sea transportation.
The Honolulu Star Advertiser reported Thursday that officials in Maui County say about 58% of Lahaina has been searched for wildfire victims.
Lahaina's burn area spans five square miles, and officials warn Hawaii's death toll will likely grow as roughly 1,000 people are missing or unaccounted for.
The White House announced Wednesday that President Joe Biden and First Lady Jill Biden will visit Maui on Monday.
"Jill and I send our deepest condolences to the families of those who lost loved ones in the wildfires in Maui, and our prayers are with those who have seen their homes, businesses, and communities destroyed," President Biden said in a statement Aug. 9.
— By Mark Hensch