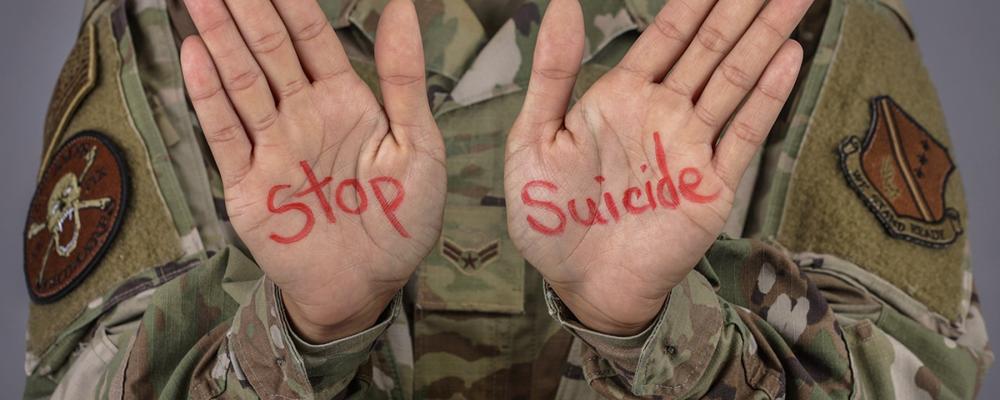 National Guard soldiers and airmen must learn it's OK to not be OK and seek help, two Guard suicide experts say.
The pair argues speaking freely about mental health problems can help overcome the Guard's unique suicide prevention challenges.
"We're trying to make it if you have a mental health issue, you go get help and it won't impact your career," Maj. Gen. Eric K. Little, director, National Guard Bureau manpower and personnel, said during a Friday press conference.
"It's OK if you go see a behavioral specialist," he continued. "That's going to take some training to change the culture."
"One is too many. We need everybody in the formation. Every adjutant general out there is committed to reducing the number of suicides."
Little was discussing the Department of Defense's Annual Report on Suicide in the Military for Calendar Year 2021.
Released Thursday, the report said the Guard had the highest per capita rate of service members dying by suicide last calendar year.
The Guard had 26.4 deaths by suicide for every 100,000 personnel in calendar year 2021, versus 24.3 deaths for the active component and 21.2 deaths for the Reserve.
In 2021, 519 service members took their own lives, including 328 active-component personnel, 117 Guardsmen and 74 Reservists.
"Our 2021 suicide rate was comparable to 2020," Little said. "But really, we've been static over the last 10 years."
Lt. Col. Timothy Smith, division chief, warrior resilience and fitness division, said measuring the results of suicide prevention methods over time can be complex.
"Are these programs working?" he asked. "Are they hitting those harm factors like we need them to to change those risk factors?"
Little suggested duty statuses make treating the Guard's mental health struggles more difficult.
"The majority of the force is in no status," he said. "That complicates things. That's a long-term challenge."
"If you're not in any status, you can't go to a military treatment center for services," Little added.
"We see them two and three days, maybe 15 days a year," he noted. "That company commander has to worry about all these other things."
"Then you have to add prevention in there too," Little concluded. "That is a problem for us."
Defense Secretary Lloyd J. Austin III has long championed treating mental and physical health equally.
But thousands of Guard soldiers and airmen lack access to any health care, unless they are on federal orders for more than 30 days.
A NGAUS priority is changing that, and legislation before Congress would provide no-cost medical coverage to every Guardsman and Reservist.
DoD's latest approach to suicide prevention centers on fostering a supportive environment and quality of life.
The Pentagon also seeks to destigmatize help-seeking and promote a culture of "lethal means safety."
Lethal means safety precautions like gun locks can prevent suicides by giving people more time to consider potential self-harm.