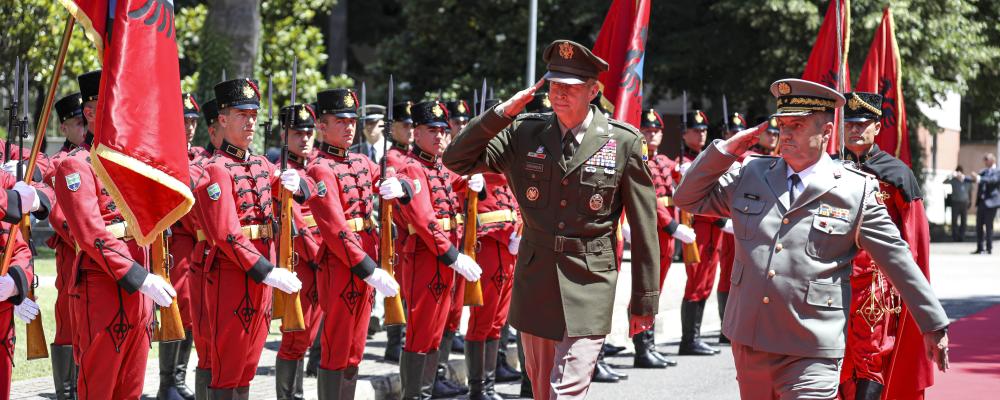 Officials from around the globe will join National Guard leaders next week to celebrate 30 years of building and nurturing international trust through the State Partnership Program.
Since 1993, the SPP has paired the Guard's 54 organizations with foreign nations for mutually beneficial security cooperation.
Today, the Guard initiative boasts 88 partnerships including 100 countries worldwide.
The National Guard Bureau will honor this achievement through an anniversary conference July 17-18 in National Harbor, Maryland.
The event's invited speakers include Gen. Mark A. Milley, the chairman of the Joint Chiefs of Staff, and Gen. Daniel R. Hokanson, the chief of the NGB and another JCS member.
Hokanson manages and administers the SPP, which the U.S. military's geographic combatant commanders execute across the globe.
"Our National Defense Strategy is clear: mutually beneficial alliances and partnerships are an enduring strength and will be more critical in the years ahead," Hokanson said during a SPP visit to Hanoi, Vietnam, July 3. "That's why the SPP is so important.
"We cannot surge trust; we can only build it," he added. "Person by person, day by day, year by year."
Next week's conference will unfold at the Gaylord National Resort and Conference Center at National Harbor.
Over two days, the event will feature panel discussions on such topics as global security threats, military relations and cybersecurity.
The celebration is expected to draw diplomatic and military leaders from most of the SPP's 100 partner nations.
DoD and State Department officials, lawmakers from Congress and Guardsmen from every U.S. state, territory and the District of Columbia are also anticipated guests.
A response to the Soviet Union's dissolution, the SPP has grown dramatically after starting with 13 partnerships in 1993.
Most of the program's first participants were new to Western democracy, and the SPP showed these countries how civilian control of the military benefits societies.
Since then, the SPP has grown by leaps and bounds, and the initiative now covers most of the Earth.
Guardsmen anchor the SPP by helping their counterparts overseas with challenges including disaster and emergency response, counterterrorism and cyber.
For everyone involved, the SPP results in stronger interoperability, readiness and trust between the participants.
Through the SPP, the U.S. also boosts its global influence and access during a time of rising tension with near-peer competitors like China and Russia.
Take Ukraine, which has repeatedly leveraged its SPP relationship with California since Russia invaded the Eastern European nation in 2022.
In May, the SPP reached 100 partnerships after adding the African nations of Gabon, Malawi and Zambia to the program's ranks.
While visiting Vietnam last week, Hokanson vowed the U.S. would continue growing the SPP, which currently covers 45% of the world's countries.
"We look to expand the SPP by 30 countries in the next decade," he said.
More information about the program is available here.
— By Mark Hensch