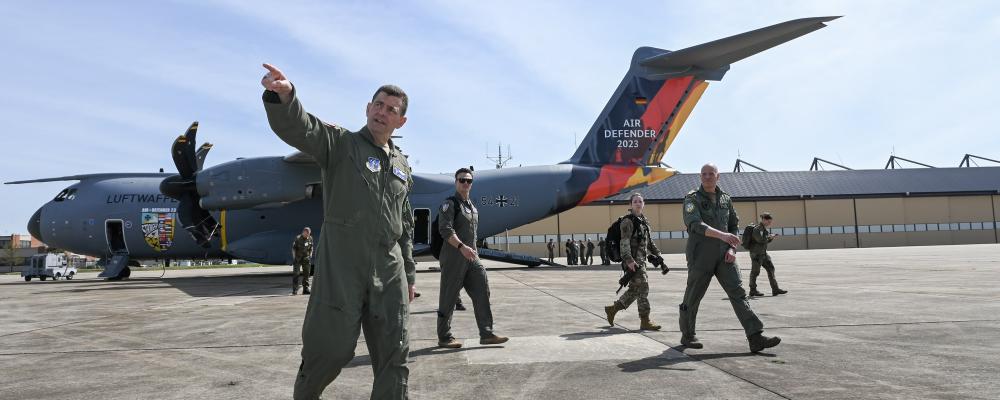 The National Guard will make history in June by providing much of the airpower during NATO's largest air exercise ever.
Unfolding June 12-23 in Europe, Air Defender 2023 will include approximately 10,000 airmen and 220 aircraft from 24 nations.
The Air Guard will provide roughly half those assets, with 46 wings from 35 states contributing about 100 aircraft.
"It is the largest transatlantic movement for an exercise since the founding of NATO," Lt. Gen. Michael Loh, the director of the Air National Guard, told reporters at Joint Base Andrews, Maryland on Wednesday.
"The U.S. Air National Guard, together with our unmatched network of allies and partners, form a strategic deterrence that is second to none," he added.
Air Defender 2023 will feature 24 airframes, including the F-35A Lightning II, the Air Force's newest fighter jet.
The F-35 is the world's most-advanced fighter, and the jets flying in Air Defender 2023 will come from the Vermont Air Guard's 158th Fighter Wing.
Other Guard fighters joining the exercise include the F-15C Eagle, the F-16 Fighting Falcon and the A-10C Thunderbolt II.
For refueling purposes, the Guard will bring the KC-135 Stratotanker and the KC-46A Pegasus.
The C-17A Globemaster III and the C-130H Hercules will serve as the Guard's transportation aircraft during the exercise.
Additionally, the Texas Air Guard's 147th Attack Wing will provide the MQ-9 Reaper, an unmanned aerial vehicle.
"What I've seen is a partnership and teamwork that is pretty much unrivaled in the world," Lt. Col. Adam Uhan, a KC-135 pilot, said of NATO.
Formed in 1949, the North Atlantic Treaty Organization is a military alliance made of member nations pledged to protect one another from external attacks.
Last week, Finland became NATO's newest member amid Europe's worst conflict in decades.
Russia invaded Ukraine in February 2022, raising fears that the region may experience prolonged bloodshed.
In June, Germany will lead Air Defender 2023 to display NATO's strength against potential threats like Russia.
"We have to be much more capable of defending the alliance," Lt. Gen. Ingo Gerhartz, the chief of the German Air Force, said last Wednesday.
"We have to prove it, we have to demonstrate it," he argued. "That is what the exercise is about."
Loh said that airmen will practice defensive counter-air, close air support and ground attack and offensive counter-air capabilities during Air Defender 2023.
During the exercise, participants will encounter simulated dangers including surface-to-air missiles, electronic communication jammers and more.
Loh added that Air Defender 2023 will show the Guard can help "defend every inch" of NATO's border with Russia.
"We're always ready," Loh said of the Guard. "Russia can take away whatever message they want."
— By Mark Hensch