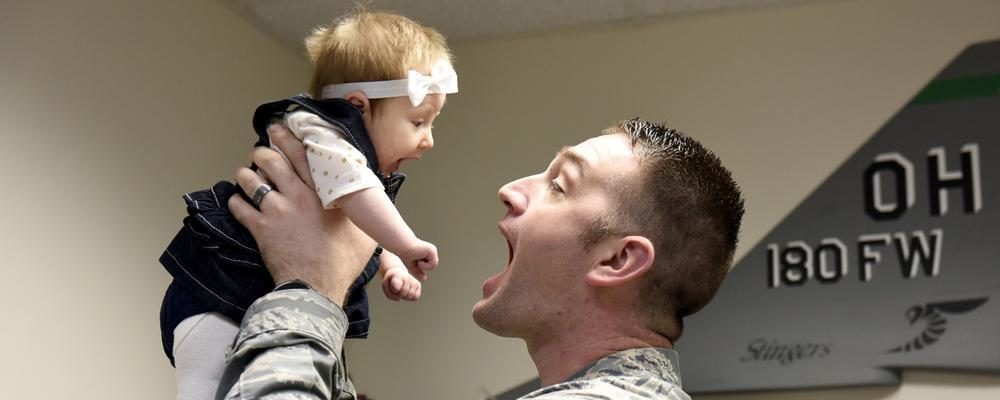 Any full-time service member welcoming a new child can now take up to 12 weeks of free parental leave during the 12 months that follow, according to a congressionally mandated policy the Pentagon released last week.
The Military Parental Leave Program applies retroactively to anyone who had a child, adopted a child or became a long-term foster parent on or after Dec. 27, 2022.
The change includes Active Guard and Reserve members and National Guardsmen and Reservists on orders of 12 months or more.
The MPLP aims to help members care for their children while balancing their unit's needs, officials said.
Previously, birth mothers received six weeks of convalescent leave and could receive another six weeks of parental leave as the "primary caregiver," but non-birthing parents received no free leave.
Now, both parents are entitled to 12 weeks of leave to bond with their new child.
That time is on top of any doctor-recommended convalescent leave for the mother.
For non-birthing parents whose children were born between Dec. 27, 2021 and Dec. 27, 2022, and who requested their full 21 days of leave but haven't taken it, their parental leave allotment grows to 12 weeks.
The new policy closely mirrors the parental leave policy for federal workers, which was expanded to 12 weeks last October.
"It is important for the development of military families that members be able to care for their newborn, adopted, or placed child or children," said Gil R. Cisneros Jr., the under secretary of defense for personnel and readiness, who signed the new policy.
Unlike convalescent leave, parental leave can be taken incrementally during the year following a birth, foster placement or adoption, at least seven days at a time.
"Commanders are encouraged to approve requests for incremental periods of parental leave" the policy reads.
"If the unit commander does not approve taking incremental parental leave, they must allow the member to take the full 12 weeks of parental leave in one continuous period," it adds.
For parents whose children are born while they are deployed, commanders may allow troops to redeploy for parental leave, according to the policy.
The policy exists here.
There is also a Reserve Component Maternity Leave Program.
That program provides drill-status "birth parents" with excused absences with pay and retirement points for 12 unit training assemblies, the equivalent of three monthly weekend drills, within 12 months of a qualified birth.
Congress included the program in the fiscal 2021 National Defense Authorization Act.
Cisneros issued the policy in a June 9, 2022 memo available here.
After receiving guidance from the services about expanding the MPLP, the Air Guard issued implementation guidance to the states, territories and the District of Columbia on Oct. 1.
The Army Guard did the same Dec. 2, according to the National Guard Bureau.
— By John Goheen