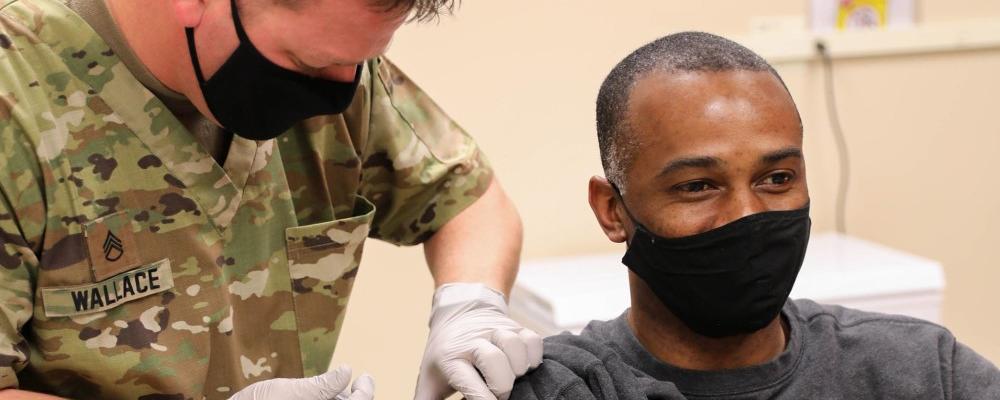 Some GOP senators have a new bill mandating the military must honorably discharge troops separated for refusing the COVID-19 vaccine.
The legislation stipulates service members with "natural immunity" to the coronavirus don't need shots protecting against the illness.
Sen. Ted Cruz, R-Texas, introduced the Allowing Military Exceptions, Recognizing Individual Concerns About New Shot (AMERICANS) Act of 2022 last week. 
"It is absolutely unacceptable that the Biden administration is trying to coerce our men and women in uniform to violate their conscience and religious beliefs, let alone on an issue as polarizing as the COVID-19 vaccine," he said. 
"The AMERICANS Act will ensure that these and similar efforts to politicize our military on this issue are blocked," Cruz added.
Cruz's proposal would require the defense secretary to "make every effort to retain unvaccinated service members."
The act additionally requires the Defense Department to report the number and type of religious exemptions for the vaccine the military has denied.
The bill impacts military members, service academy students and ROTC participants. 
Cruz's policy doesn't define "natural immunity," a contentious subject during the COVID-19 pandemic.
The Centers for Disease Control and Prevention has said contracting COVID-19 may shield people from future bouts with the sickness.
But opinions vary on how long natural immunity protects individuals from the coronavirus.
Thirteen lawmakers co-sponsored the new bill alongside Cruz. They are Sen. Marco Rubio and Sen. Rick Scott of Florida, Sen. Mike Crapo and Sen. James Risch of Idaho, Sen. Mike Braun of Indiana, Sen. Roger Marshall of Kansas, Sen. Rand Paul of Kentucky, Sen. Josh Hawley of Missouri, Sen. Steve Daines of Montana, Sen. Kevin Cramer and Sen. John Hoeven of North Dakota, Sen. James Lankford of Oklahoma, and Sen. Ron Johnson of Wisconsin.
Democrats control the House, Senate and White House, making Cruz's legislative push unlikely.
Vaccinating the armed services against COVID-19 has caused controversy since the procedure became compulsory in 2021.
Supporters argue the vaccine shields military health and readiness against a dangerous virus.
Critics counter mandatory COVID-19 vaccinations may hurt military recruitment and retention while violating medical privacy and decision making.
The Military Times reported last week about 3,400 people have been involuntarily separated from the military for refusing COVID-19 shots.
Per The San Antonio Express last week, the Pentagon says 79.5% of the active-duty, reserve and Guard components are fully vaccinated against COVID-19.
The Pentagon adds 95.2% of troops have at least one dose of COVID-19 vaccine.
The Air National Guard has a 93.6% full vaccination rate after last December's deadline.
The Army National Guard and Army Reserve have a June 30 cutoff, with lower compliance so far.
The Army Guard states 82.6% are fully vaccinated, and 85.6% have one shot.