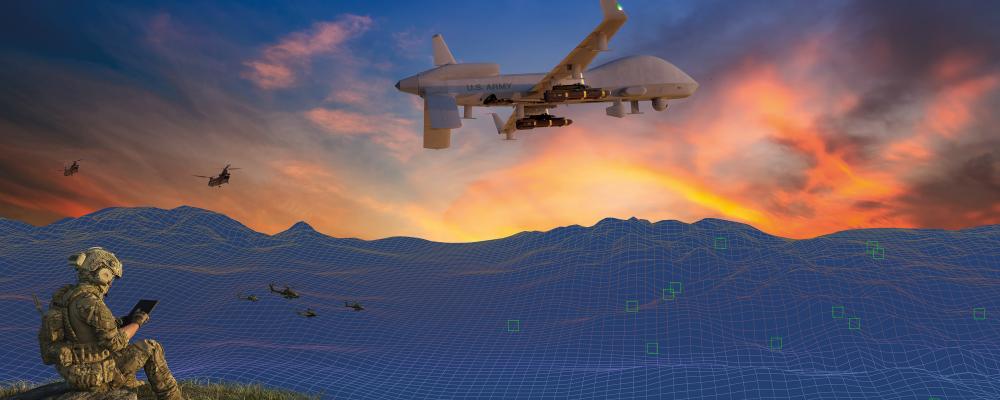 The Army National Guard will receive its first new combat aircraft in decades thanks to NGAUS and the adjutants general working with Congress.
Army leaders consider the MQ-1C Gray Eagle unmanned aircraft system essential for future fights.
The Gray Eagle's unique reconnaissance, surveillance and target-acquisition capabilities enable commanders to pinpoint long-range artillery.
The same capabilities also enable aviators to see far beyond the horizon. And Hellfire missiles boost the Gray Eagle's firepower.
All 10 active-component divisions already have them, but there aren't any in the Guard's eight divisions, which hinders their ability to conduct large-scale combat operations.
That changes with fiscal 2023 defense appropriations, which include 12 Gray Eagles for the Army Guard, enough to field a full Gray Eagle company in one division.
The aircraft weren't in the president's budget request. Army officials even tried to persuade lawmakers from adding $350 million to buy them for the Guard, according to people close to the process.
Ultimately, however, the case NGAUS and state Guard leaders made to Congress prevailed.
"Guard divisions cannot fulfill their obligations in the National Security Strategy and the National Defense Strategy if they are not equipped and fully interoperable with the active component," said retired Col. Mike Hadley, the association's vice president for government affairs.
The Gray Eagle is also an asset for the domestic response, said Maj. Gen. Richard R. Neely, the adjutant general of Illinois.
Among state Guard leaders, Neely was one of the driving forces behind obtaining the Gray Eagle for the Guard.
An aircraft capable of loitering over the battlefield and providing high-resolution, real-time imagery can do the same over a flood or wildfire, he said.
The Gray Eagle is an upgrade of the MQ-1 Predator, another General Atomics product. It is 28-feet long and has a 58-foot wingspan, making it the Army's largest unmanned aircraft system.
The aircraft coming to the Guard in 2024 is the latest variant.
It can fly for 40-plus hours with a range of 2,500 nautical miles via satellite communications, reaching an altitude of 25,000 feet and a speed of 157 knots. It can carry up to eight Hellfire air-to-surface missiles. And it can be controlled by a soldier in the field on a tablet.
The latest Gray Eagle is also capable of multi-domain operations, an upgrade from earlier variants, and critical to the Army's effort to overmatch a near-peer adversary.
"This is a big win for the Army National Guard's combat divisions, but it's just the start," Hadley said.
"All eight Guard divisions need to mirror the active-component in equipment and capabilities," he added. "One Guard division will initially be getting Gray Eagles. All eight urgently need them."
Hadley said NGAUS will be working with Congress this year to continue the effort.
The National Guard Bureau will determine which Guard division will receive the new aircraft.
— By John Goheen