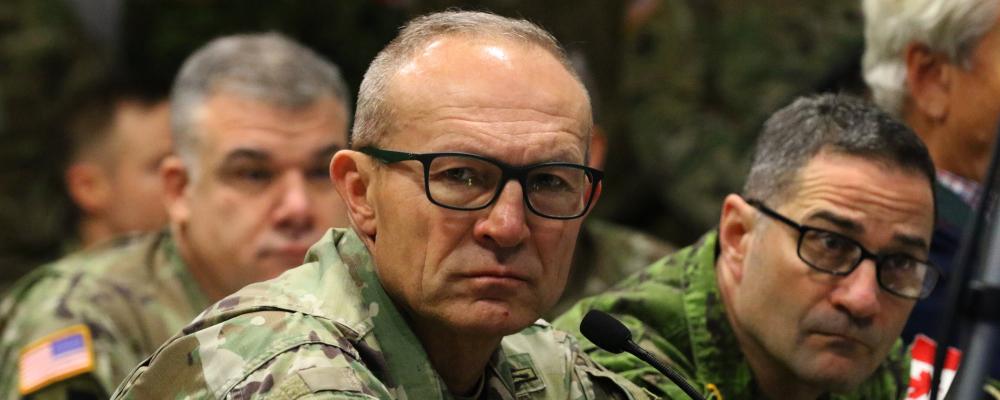 The Army's No. 2 uniformed leader has been nominated as the service's next chief of staff.
President Joe Biden chose Gen. Randy A. George to succeed Gen. James C. McConville, who plans on retiring this summer.
George's nomination was posted in the congressional register April 20. Biden's choice is subject to Senate confirmation.
Raised in Alden, Iowa, George was a 1988 West Point graduate who served in combat in Operation Desert Storm and commanded troops in Iraq and Afghanistan.
George is also familiar with Defense Secretary Lloyd J. Austin III, having served as Austin's senior military assistant from June 2021 until he became the Army vice chief in August 2022.
On April 19, George testified on Capitol Hill about the Army's readiness.
"Our Army is also transforming, because, honestly, we don't have an option," George told the House Armed Services Readiness Subcommittee.
"Warfare is changing, and we must change because of it to ensure we stay ahead of our potential adversaries," he added.
Retired Brig. Gen. J. Roy Robinson, the NGAUS president, said the association had "a very productive relationship with General McConville and we look forward to working with General George moving forward."
"His appointment as chief of staff of the Army includes the Army National Guard as the primary combat reserve of the U.S. Army," Robinson added.
McConville will retire with 42 years of service.
He is a senior Army aviator qualified in the AH-64D Longbow Apache, OH-58 Kiowa Warrior, AH-6, AH-1 Cobra and other aircraft.
The native of Quincy, Massachusetts, became the 40th Army chief of staff in August 2019 after serving as the vice chief.
McConville spoke at three of the last four NGAUS conferences, only missing the 2021 gathering due to emergency meetings during the final U.S. withdrawal from Afghanistan.
Last year, McConville received the Harry S. Truman Award from NGAUS at the association's 144th General Conference & Exhibition in Columbus, Ohio.
The association's highest honor, the award recognizes distinguished service in support of national defense.
McConville was the first serving Army chief of staff to receive the award since Gen. William Westmoreland in 1969.
George's selection is the first of many top Pentagon nominees that will be announced this year.
Over the next several months, the White House will also nominate picks for chairman of the Joint Chiefs and the uniformed chiefs of the Navy and Marine Corps.
Three of the military's top combatant commanders are also changing: the heads of Northern Command, Space Command and Cyber Command.
— By John Goheen