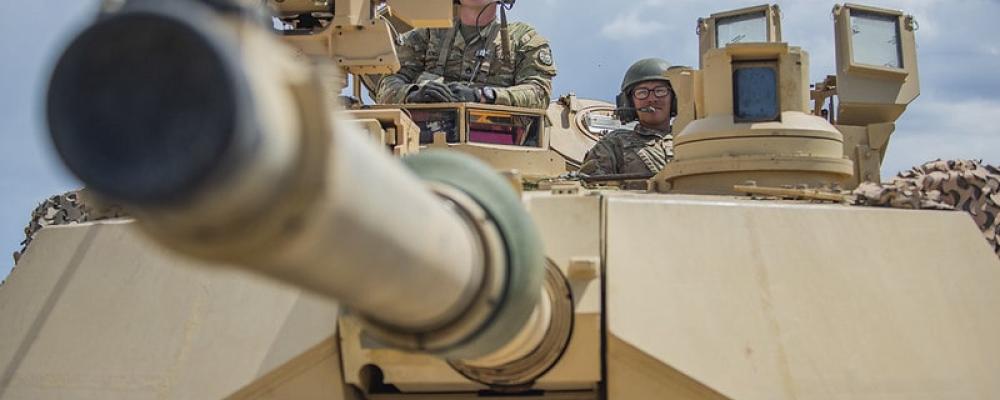 The Army has released the latest version of its capstone operations doctrine, Field Manual 3-0.
The newly updated FM 3-0 establishes multidomain operations as the Army's operational concept.
The focus remains on large-scale combat operations against adversaries able to contest the joint force in the land, air, maritime, space and cyberspace domains.
The updated doctrine defines multidomain operations as "the combined arms employment of joint and Army capabilities to create and exploit relative advantages that achieve objectives, defeat enemy forces, and consolidate gains on behalf of joint force commanders."
The 280-page field manual can be found here.
"There is not a time in recent history that is so potentially dangerous," Gen. James C. McConville, the Army chief of staff, said in the document's foreword.
"Russia, our acute threat, is conducting an unprovoked war on the sovereign country of Ukraine," he continued.
"Our pacing challenge, China, with an economy nearly equal in size to ours, is building a world-class military to challenge us and threatening its neighbors, including Taiwan."
Observations from recent conflicts inspired several updates, said Rich Creed, the director of the Combined Arms Doctrine Directorate at Fort Leavenworth, Kansas.
Among the changes is a deeper understanding of the current operational environment through three dimensions — physical, information and human — and five physical domains — air, ground, space, cyberspace and maritime.
"This update to our operations doctrine is just one evolutionary step in how we need to adapt to deal with current threats," Creed said.
"We may have to operate from a position of disadvantage and that should drive changes to our organizations, acquisition priorities, and training."
The Army has had four significant operational concepts since 1986.
Each version has built on the preceding concept by adapting to changing operational environments.
While AirLand Battle focused primarily on threats in Europe, full-spectrum operations in the early 2000s recognized Army forces did more than operate during big wars against big threats.
Unified land operations as an operational concept entered the lexicon in 2011, recognizing the lessons learned during the Global War on Terror.
This philosophy also acknowledged the changing threat environment and an increased likelihood of large-scale combat operations.
Multidomain operations represent a maturation of capstone concepts.
The concept also recognizes the need to deal with threats that have capabilities specifically designed to defeat U.S. forces across the competition continuum.
To ensure readiness and increase understanding of the new operations doctrine, the Army will use mobile training teams to introduce the new FM 3-0 to leaders responsible for professional military education, at the combat training centers and in the operational force, per an Army press release.
The Army expected to release the doctrine last summer but held off to observe and learn from from Russia's invasion of Ukraine.
Service leaders said the doctrine's major concepts didn't change because of the conflict.
— Based on an Army press release