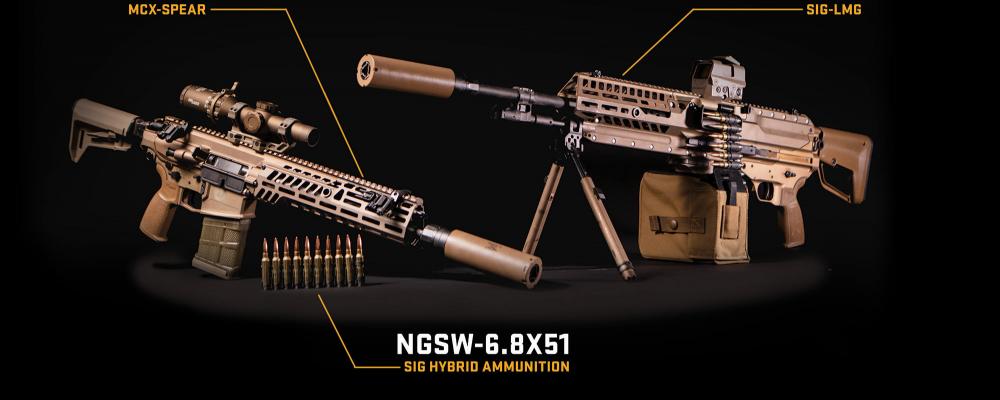 Soldiers in close combat units will soon have new individual rifles and a new squad machine gun thanks to an Army contract announced last week.
Sig Sauer, Inc. will manufacture and deliver 6.8mm Next Generation Squad Weapons to replace the M4 carbine and M249 Squad Automatic Weapon, which both fire 5.56mm rounds.
The company's XM5 will replace the M4 in close-combat units while its XM250 will replace the SAW. The "X" status remains until fielded in most naming conventions. Other units will continue to use the M4.
Fielding is scheduled to begin in fiscal 2023, according to the Army.
The Army said each weapon provides significant improvements in accuracy, range and overall lethality. They are lightweight, sporting mitigated recoil, enhanced barrel performance and integrated muzzle sound and flash reduction.
The service chose the 6.8mm round following the publication of the 2017 Small Arms Ammunition Configuration Study.
The study was partially driven by advances in adversary body armor and field reports of underperformance and lackluster lethality for the 5.56mm round at distances beyond 300 meters in Afghanistan. 
Sig Sauer will now provide the individual rifle, light machine gun and handgun, having won the handgun contract in 2017. The company now provides most small arms to close combat forces.
The 10-year contract worth as much as $4.7 billion includes accessories, spares and contractor support for the XM5 and XM250.
An advanced ruggedized fire control system boosting accuracy and lethality will join the XM5 and XM250. The XM157 Fire Control will contain advancements including a compass and infrared aiming lasers.
Sheltered Wings Inc., doing business as Vortex Optics of Barneveld, Wisconsin, manufactures the XM157.
Sig Sauer's award follows 27 months of prototyping and evaluation involving the manufacturer and two competitors. The process featured various technical tests and soldier touch points for all three systems.
Army officials said Sig Sauer defeated Lone Star Future Weapons, partnered with General Dynamics-OTS, in the competition's last leg. Textron Systems could not meet the contract's technical qualifications, departing the race earlier.
Brig. Gen. William M. Boruff, who is with the Army's Joint Program Executive Office – Armaments and Ammunition, said the Army's 120,000 infantrymen, cavalry scouts, combat engineers, forward observers and combat medics could ultimately carry the weapons. 
The Next Generation Squad Weapons program is one of the Army's 35 modernization priority programs and among the 24 programs that Gen. James C. McConville, the Army chief of staff, said would start prototyping in fiscal 2023.