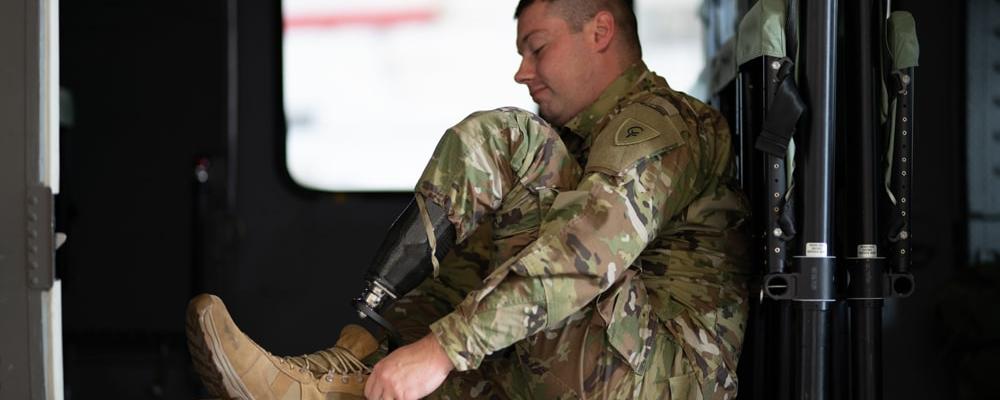 After falling short last year, lawmakers and veteran service organizations are mobilizing in support of legislation that would let more than 50,000 combat-disabled veterans simultaneously receive full retirement and disability pay.
The Major Richard Star Act would change the current policy, which prevents some service members with combat-related injuries from receiving both retirement and disability benefits.
Military personnel receive retirement pay from the Defense Department, while the Department of Veterans Affairs disburses disability compensation.
Retirees with a disability rating of at least 50% are entitled to both programs with offset, but those with a lower disability rating have their retirement pay reduced by one dollar for every dollar of disability pay.
Before 2004, retirees, regardless of their disability rating, weren't entitled to concurrent receipt.
That's when Congress came up with the current system.
The Star Act, which had wide support in the 117th Congress but didn't make it into the fiscal 2023 National Defense Authorization Act, would provide the final fix.
Now, lawmakers in both chambers are poised to reintroduce the measure, hoping to pass it as a standalone bill or as part of the fiscal 2024 NDAA.
The legislation is named after Iraq and Afghanistan veteran Maj. Richard Star, who died in 2021 of cancer related to his service.
Several military service organizations want to avoid a similar setback with the Star Act this year.
They are urging Congress and President Joe Biden to move on the Star Act soon.
"This is an issue that has bipartisan support, so even in a split Congress this should be an easy thing to get done," Jose Ramos, vice president of government and community relations for the Wounded Warrior Project, told Military Times.
Sen. Jon Tester, D-Mont., said the Star Act will be a priority during his role as chairman of the Senate Veterans Affairs Committee.
Sen. Mike Crapo, R-Idaho, will co-sponsor the legislation in the Senate.
Rep. Gus Bilirakis, R-Fla., and Rep. Raul Ruiz, D-Calif., have also introduced the Star Act in the House, according to Military Times.
Last week, Bilirakis tweeted that he "will not stop fighting until the injustice of concurrent receipt is rectified for all Veterans."
There should be no additional funding needed for the Star Act as the policy change would come from the existing Military Retiree Trust Fund.
Activists are hoping to build on their recent success passing the PACT Act and get the Star Act onto Biden's desk this year.
Named after Ohio National Guardsman Sgt. First Class Heath Robinson, the PACT Act was signed into law last year.
The PACT Act funds research and benefits for an estimated 3.5 million veterans suffering from health conditions developed after exposure to burn pits in Iraq and Afghanistan.
Advocates worked for more than a decade to secure the PACT Act's passage.
— By Jennifer Hickey