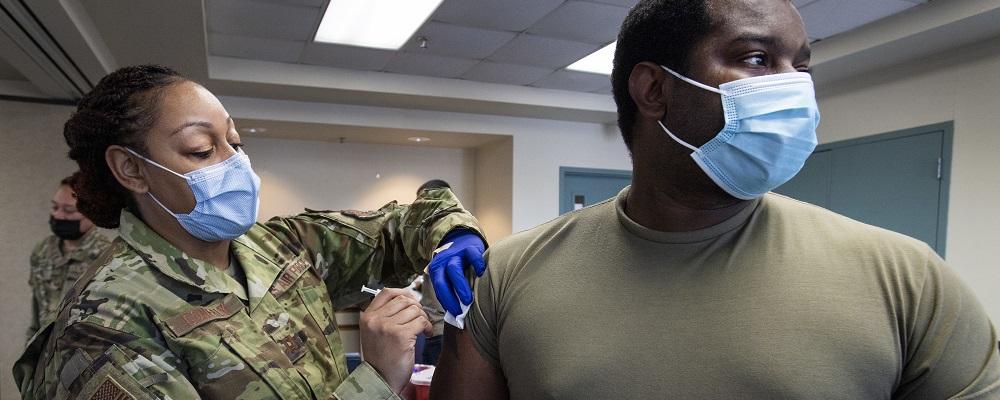 The first of several deadlines for service members to receive a COVID-19 vaccine is here, but the battle over the looming mandates is far from over.
Active-duty Air Force and Space Force troops were required to have been vaccinated by Nov. 2. Next up are Defense Department civilians, who must be fully vaccinated by Nov. 22. The Navy and Marine Corps follows on Nov. 28. The Air National Guard and Air Force Reserve have until Dec. 2. Active-duty soldiers have until Dec. 15. And the Army National Guard and Army Reserve have until June 30.
Pentagon leaders have said readiness was the chief concern pushing the drive to vaccinate the force, but opponents of the plan have also embraced readiness concerns, warning of the impact of potentially losing thousands of troops and delaying important federal contracts.
As of late last month, just 64% of the military had been vaccinated, lower than the 67% of all Americans ages 12 and older who were fully vaccinated as of Oct. 22.
The Air Force and Space Force had almost 8,500 troops miss their deadline, while about 1,800 received exemptions from the requirement.
Those without exemptions are now at risk of being booted from the force. The service has already begun discharging some vaccine refusers. Forty would-be service members were separated from recruit training after refusing the COVID-19 vaccine, according to a Military.com report.
Earlier this month, Pentagon and Veterans Affairs officials said those who refuse the vaccine won't see extra protections or leniency in their dismissals and could potentially lose out on veterans' benefits.
Local commanders will be left to determine the type of discharge and other decisions that could impact those troops.
"We see the vaccine as a readiness issue," said Gil Cisneros, the Pentagon's undersecretary for personnel. "Any discharge decision is up to the individual service as to how they proceed with that."
Military leaders are still determining what to do with service members who refuse the vaccine and do not have an approved exemption. In addition to removing them from the force, service members could face transfers out of their units, travel restrictions, limits on deployments and requirements to repay bonuses, according to the Associated Press.
According to the New York Times, the military has granted few exemptions so far, with the majority being for medical reasons. No religious exemptions have been approved.
Possible religious exemptions are under close scrutiny, the paper reported, in part because the leaders of most major religious organizations have recommended their members get the vaccine.
The vaccine mandate on troops is part of a broader mandate on federal employees, government contractors and major employers previously announced by the Biden administration.
That mandate is facing numerous court challenges. And at least one state, Oklahoma, has requested that the mandate be suspended for its National Guard troops.
Last week, the Biden administration released two updates on the federal vaccine mandate, clarifying that rules imposed on millions of private employers, certain health care workers and federal contractors would not be enforced until after the holiday season.
The deadline for federal contractors to ensure their workers are fully vaccinated has also been pushed back, from Dec. 8 to Jan. 4. Other aspects of the mandate, such as providing paid time off for employees to be vaccinated and requiring unvaccinated workers to wear a mask in the workplace, will take effect Dec. 5.