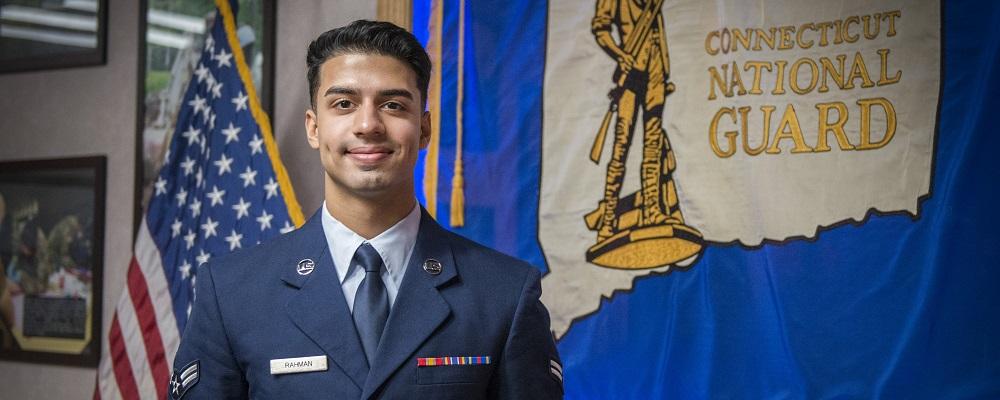 A Connecticut Air National Guardsman is being hailed for selfless heroics following his response to an off-duty motor vehicle crash.
Airman 1st Class Sikander S. Rahman of the 103rd Airlift Wing was named USO National Guardsman of the Year for 2020 due to his actions, which saved the life of the car's occupant.
Rahman was honored Saturday, Dec. 5, in a small ceremony that was broadcast via Facebook. The larger USO event, typically held each year in Washington, D.C., was not held due to concerns with the ongoing coronavirus pandemic.
According to an account of the incident told by an off-duty police officer, the crash occurred outside a restaurant near Hartford, Connecticut.
While eating lunch, the officer heard someone shout for help and, before he could get up from his seat, witnessed Rahman running for the door.
As the officer chased Rahman outside the restaurant, he saw a vehicle flipping sideways down the street and coming to rest on its roof. The sole occupant began screaming for help freeing themselves from the wreckage before it was completely engulfed in flames.
Rahman dove onto the ground, according to the account, carefully pushed the airbag out of the way and removed the occupant. He then stayed on the scene to give first aid and keep the victim calm until medical personnel arrived.
"Without Rahman's presence and heroic actions, the driver may not have been removed in such a safe and timely manner," officials said. "His courageous efforts resulted in the saving of a civilian's life."
In addition to the USO, Rahman was honored by Maj. Gen. Francis Evon, the adjutant general of Connecticut.
Evon praised Rahman's quick thinking and courage in the face of danger. He noted the airman is also preparing to donate part of his liver and bone marrow to help a nephew suffering from a rare disease.
"This is a great day," Evon said. "Airman Rahman is the epitome of our Guardsmen."
Rahman deflected praise for his actions, instead offering thanks to his family and military leaders for their support.
"I don't know what to say," he said. "I want to say thank you to everybody for being here."