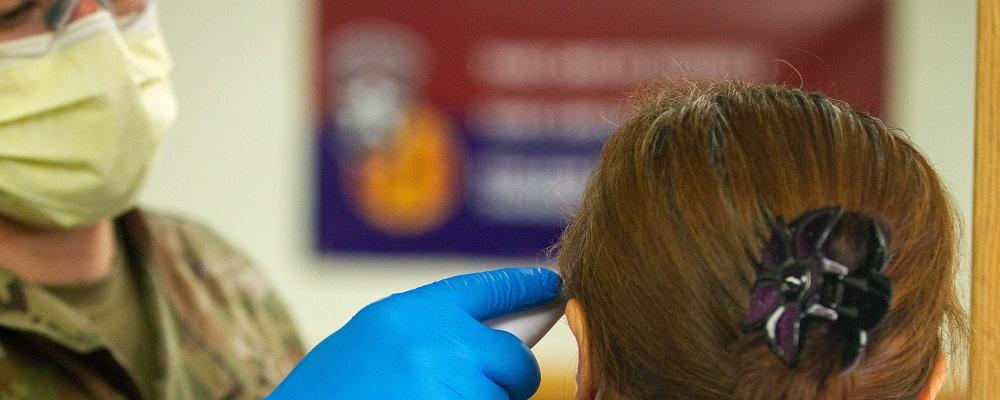 Military leaders, including those in the Guard, are taking a more proactive approach to the Covid-19 coronavirus as infections and deaths continue to rise worldwide.
Soldiers, Marines and sailors around the globe have been infected in recent weeks. Meanwhile, military facilities continue to be used as quarantine sites for potentially infected travelers.
Guard facilities have previously been used or identified as quarantine sites. Last week, California Air Guardsmen provided test kits to the Grand Princess, a cruise ship carrying 3,500 people that had been sitting off the west coast as officials developed a plan for testing potentially infected passengers. And today, members of the New York National Guard were deployed to help authorities in a "coronavirus hot spot" just north of New York City.
On Monday, Pentagon leaders announced passengers of the cruise ship would be quarantined at four military bases, including Travis Air Force Base in California, Lackland Air Force Base in Texas, Miramar Marine Corps Air Station in California and Dobbins Air Reserve Base in Georgia.
The Pentagon has issued guidance to commanders in recent days identifying best practices to minimize risk and ensure future readiness in the event of further outbreak of the coronavirus, which is believed to have originated in China. Among other actions, officials have granted exceptions to policy for telework for civilian employees and emphasized health and hygiene.
A sailor in Italy, Marine in Virginia and a soldier in South Korea have all tested positive for the coronavirus. Meanwhile, dozens of soldiers have been quarantined in Europe after possible infection during a training exercise in Norway and the top Army general in Europe and several of his staff are self-monitoring after Lt. Gen. Christopher Cavoli was potentially exposed during a conference in Germany.
The Army has limited movement of troops from assignments in parts of the world with ongoing outbreaks and has canceled training exercises as a result of the virus. Other canceled events include the 75th anniversary for surviving veterans of the Battle of Iwo Jima.
In response to the threat of coronavirus, services have begun screening new recruits for signs of the virus prior to beginning basic training, according to reports. Officials with the Walter Reed Army Institute of Research have been working on a vaccine for the coronavirus since January.