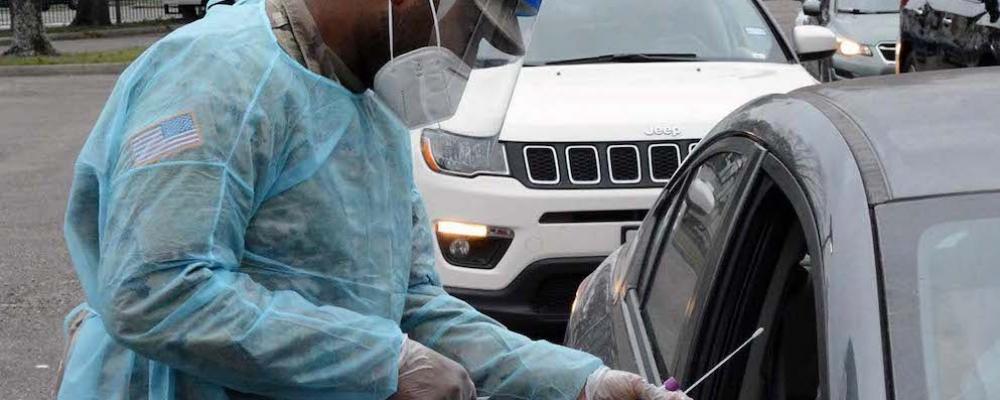 Approximately 2,500 Air Guardsmen are set to lose pay and benefits due to being unvaccinated. And thousands more could be in for a similar fate if requests for exemptions continue to be denied.
Meanwhile, Texas has joined its neighbor Oklahoma in fighting against the COVID-19 vaccine mandate.
The latest developments in the mandate saga come as three Guardsmen died of COVID-19 complications in the final days of 2021. An Army Reservist also died during that span, according to Military Times.
After reporting 14 deaths due to COVID-19 in 2020, the Pentagon said 72 service members were killed by the virus in 2021, with the vast majority of the deaths occurring since June. The reserve component has made up the majority of those losses, accounting for 55 of the 86 deaths.
The latest deaths included a 57-year-old Air Guard master sergeant serving with an air refueling wing in Lincoln, Nebraska; a 50-year old Army Guard chief warrant officer 4 assigned to a forward support company in Marshall, Missouri; and a 56-year-old Army Guard chief warrant officer 3 serving with a Special Forces unit in Denver, Colorado.
The deadline for members of the Air Guard to be vaccinated has passed, but Army Guard soldiers have until June 30 in most states.
According to the Air Force, 2,500 unvaccinated Guardsmen are now ineligible for pay or benefits, banned from finishing jobs, taking on new orders or attending drill weekends or participating in training.
Another 3,600 have requested religious exemptions to the Pentagon's vaccine mandate. No religious exemptions have been granted to any service member to date. Another 2,100 Guardsmen are exempt from the requirement for administrative reasons, such as an upcoming retirement or for medical reasons.
Oklahoma was the first state to challenge the vaccine mandate, with its leaders arguing the Pentagon lacks the authority to impose a vaccine mandate while Guardsmen are not on federal orders.
But after a federal judge sided with the Pentagon, Oklahoma announced it would not allow unvaccinated airmen to attend drill without an approved or pending exemption.
Now, Texas leaders have filed their own lawsuit challenging the mandate.
But as Texas and Oklahoma fight the mandate, at least one state has instituted an earlier deadline.
Ohio Gov. Mike DeWine said he has moved up the Ohio Army Guard's vaccination deadline to March 31. The decision came as the state has deployed 2,300 Guardsmen to help in hospitals overstressed by COVID-19 across the state.
DeWine, a Republican, said Ohio Guardsmen who weren't vaccinated are not eligible for those missions and said he was frustrated with his state Army Guard's vaccination rate, which was 56% as of last week.
Ohio's adjutant general, Maj. Gen. John Harris Jr., told the Columbus Dispatch that he expects the Army Guard's vaccination rate to increase in the coming months.
"The reality is the vaccine is a part of medical readiness. I would never put a soldier or airmen in harm's way without the best protection ... body armor, helmet," he said. "I would be an irresponsible leader if I did that. And this medical readiness is the exact same thing."
In addition to Texas and Oklahoma, at least five other states have asked Defense Secretary Lloyd J.  Austin II to reconsider the vaccine mandate. They include Alaska, Iowa, Mississippi, Nebraska and Wyoming.
But while Guard leaders in some states have challenged the Pentagon's ability to impose the mandate on Guardsmen under state orders, they also acknowledge that such a mandate would effectively end careers for Guardsmen who choose to remain unvaccinated, as they would not be eligible for certain training events, military schools and mobilizations.