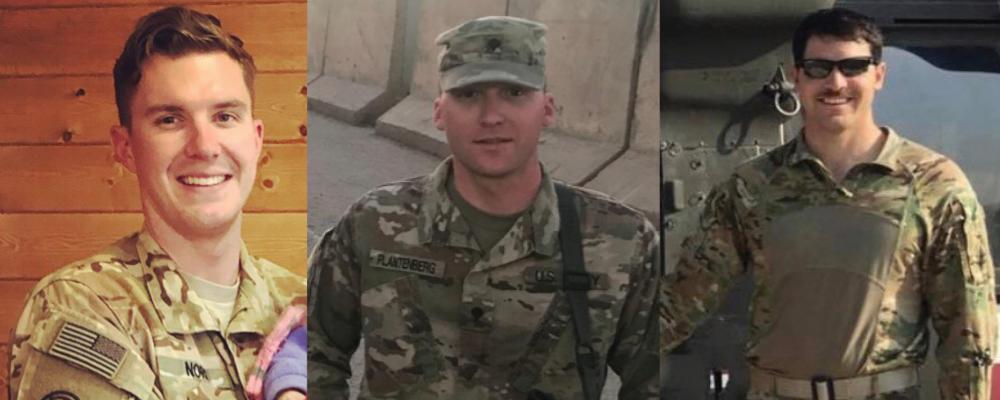 A Minnesota National Guard helicopter crashed Thursday near St. Cloud, Minnesota, killing all three soldiers aboard.
Chief Warrant Officer 2 James A. Rogers Jr., 28; Chief Warrant Officer 2 Charles P. Nord, 30; and Sgt. Kort M. Plantenberg, 28; were killed. All three had recently returned from a deployment to Kuwait where their unit conducted medical evacuation missions.
Memorial services for the three men are set for this week.
The UH-60 Black Hawk belonging to C Company, 2nd General Support Aviation Battalion, 211th Aviation Regiment crashed shortly after takeoff from an Army aviation safety facility in St. Cloud for what was supposed to be a routine maintenance flight.
About nine minutes after takeoff, the pilot called mayday and then lost communication with air traffic controllers before crashing into a nearby field. A team from the Army Safety Center at Fort Rucker, Alabama, is investigating the cause of the crash.
Minnesota Gov. Tim Walz, a 24-year Guard veteran, ordered flags at government buildings to be flown at half-staff following the accident. Leaders in Minnesota and Washington, D.C., have offered condolences to the families and friends of the deceased.
"This is a devastating loss for the families of our deceased soldiers, and our entire Minnesota National Guard family," Maj. Gen. Jon Jensen, the adjutant general of Minnesota, said while speaking to reporters over the weekend, according to MPRNews. "To the families of our three soldiers, there is nothing I can say that will take away or lessen the pain you are feeling. What I can tell you is you are not alone in your grief."
The House National Guard and Reserve Components Caucus also offered condolences. Walz helped lead the caucus when he served in the House of Representatives.
A statement from current co-chairs, Rep. Steven Palazzo, R-Miss., and Rep. Tim Ryan, D-Ohio, said the "three brave soldiers paid the ultimate sacrifice while performing their duties to serve our nation. We will always remember their dedicated service and will continue to keep their friends, family and fellow Guardsmen in our thoughts and prayers."