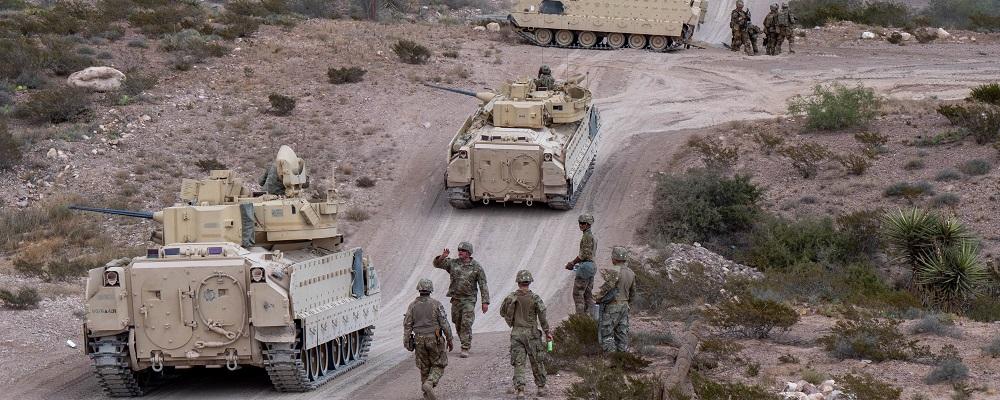 A new report gives the Army high marks for improving its readiness in recent years, but warns the U.S. military would be overstretched by multiple large wars.
The Heritage Foundation's 2020 Index of Military Strength rated the Army, Navy, Air Force and Marine Corps as being at "marginal" strength. All four services struggled with capacity — the number of uniformed personnel currently serving — and with capability — which is a reflection of current equipment and weapons systems.
The Army was the only service to be rated "very strong" in terms of readiness. The report's editor, Dakota Wood, said this was due to investments made in preparing four National Guard brigade combat teams for overseas missions.
Officials for the conservative think tank did not account for homeland defense missions that are generally handled by the Guard, nor did they assess reserve components overall, despite making up roughly one-third of the U.S. military force.
The Heritage Foundation report evaluated each military branch, graded the nuclear arsenal and touched on global threats and potential adversaries.
The Army's current artillery weapons were of particular concern, with officials noting the force is out-ranged by near-peer competitors, Russia and China.
"An important part of an artillery system is its range and most modern countries have artillery systems that can outrange the Paladin M109A7, the Army's current self-propelled howitzer," officials said. "The Paladin can fire an artillery shell about 22-30 km. The Russian 2S33 Msta-SM2 reportedly can hit targets at 40 km. Similarly, the German Army's PzH 2000, the Chinese PLZ-05, the South Korean K9 and the French CEASAR systems all outrange the Paladin."
For the Air Force, the report's authors were concerned with the shrinking number of aircraft in the service's fleet and the advanced age of that fleet.
"Today, the average age of Air Force aircraft is more than 29 years, yet the service — even with its FY 2018, FY 2019 and FY 2020 budget increases — has no plans to increase the acquisition rates for any major weapons systems," the report states. "It is instead relying on Congress to increase the [Air Force] procurement budget to cover what it perceives as a budget shortfall."
The report also evaluated potential threats to the United States. It determined Russia and China possess a "formidable" threat while rating the overall global threat to U.S. vital interests as "high."