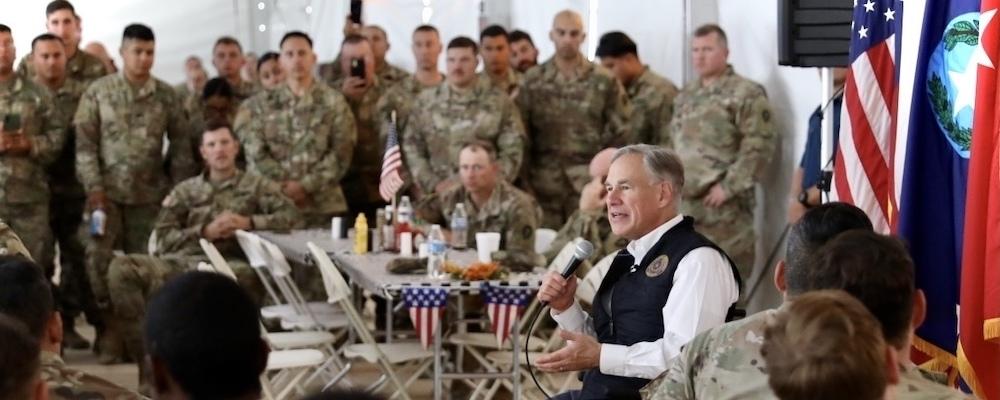 Texas National Guard leaders are pushing back against numerous allegations related to Operation Lone Star, the state's mission to counter illegal immigration and drug trafficking on the southern border.
Recent reports have detailed numerous alleged issues with the mission, including delays in pay, denied hardship requests, suicides, subpar equipment and living conditions and spreading COVID-19 infections.
The Texas Military Department released a statement last week addressing those claims and defending the results of the mission, which officials said has led to approximately 100,000 illegal migrants being apprehended or referred to federal and state law enforcement partners, more than 9,000 individuals being returned to Mexico and "significant drug and weapon seizures."
TMD, working with the Texas Department of Public Safety, has established a "steel curtain" on the state's southern border, comprised of temporary barriers, personnel and heavy equipment. There are 10,000 TMD personnel currently assigned to the mission.
The statement, attributed to Col. Rita Holton, the state's public affairs officer, follows numerous reports by state and national media outlets based in part on anonymous feedback from Texas Guardsmen.
Holton called the reports "scurrilous accusations by seemingly reputable media sources" and said anonymous sources and unverified documents have been "skewed to push an agenda."
The state border mission was launched in March 2021, following a state disaster declaration by Republican Gov. Greg Abbott, but has repeatedly come under attack by those who say the mission is politically motivated and numerous legal challenges.
Last week, the Austin American-Statesman reported that 50 Texas House Democrats had sent a letter to the U.S. departments of Justice and Homeland Security requesting a federal investigation into Operation Lone Star.
A state district court judge in Austin recently ruled the mission was unconstitutional because it amounts to illegal enforcement of federal immigration laws, the newspaper reported.
Many of the more recent allegations related to Operation Lone Star were reported by Army Times in late December.
The newspaper spoke to numerous Guardsmen, their family members and the recently retired senior enlisted leader of the Texas Army National Guard, who was critical of the mission's planning, a seeming "lack of purpose" and issues related to indefinite involuntary call-ups.
Army Times reported that of the four soldiers tied to Operation Lone Star who have died by suspected suicide, one had been denied a hardship waiver as he was preparing to accept a "lifetime job" and the other was approaching the end of his waiver made necessary by his wife's emergency surgery and a need to care for a disabled relative.
In her statement last week, Holton said there is no evidence to support an assumption that the deaths of the four Guardsmen were made as a direct result of hardship denials.
"It would be irresponsible journalism at this point in time to tie these tragedies to Operation Lone Star," the statement read.
Officials noted that 75% of hardship requests have been granted. They also said that approximately 75% of pay discrepancies have been resolved, to include backpay for those service members who received inaccurate amounts.
As for living conditions, Holton said service members are "trained to operate and adapt in austere environments at home and abroad" and said commanders have identified areas of improvement.
Brig. Gen. Monie Ulis, the commander of Operation Lone Star, told Nexstar Media in Texas that improvements to living quarters are on the way. Ulis said complaints about the length of the mission were part of the job.
"Oftentimes, we don't get to choose when or where we deploy," he said. "That's just part of the commitment."
Ulis said there was no end date for the mission, and that leaders would continue to address issues as they arise.
"We will fix the pay issues, we're transitioning to the new lodging. And we will continue to make improvements in order to ensure that those soldiers and families are taken care of," he said.