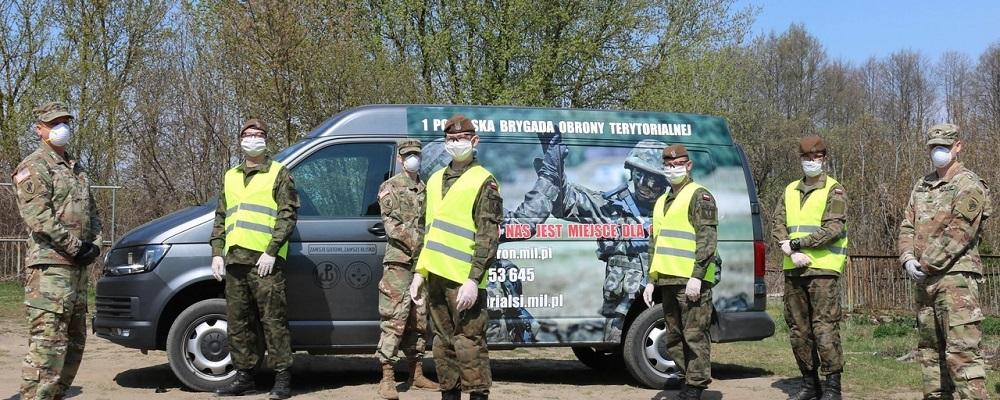 Illinois National Guard and civilian health care leaders are getting some help from an ally across the Atlantic.
Medical officers from the Polish army are on the ground in Chicago, offering lessons learned from their experience treating COVID-19 patients in Italy. The exchange was made possible by the Guard's State Partnership Program, which pairs individual state's National Guards with friendly countries across the globe.
Poland and Illinois have been paired since 1993 and have conducted numerous joint trainings and other cooperative events together.
When Polish medics discovered they could help their friends in Illinois, they volunteered to leave their families and deploy into one of America's hottest coronavirus zones, officials said.
"Our relationship with the Illinois National Guard has lasted for 30 years. In this period, we have fought against our enemies arm in arm and we have always adjusted to the type of threat we are facing," said Polish army Capt. Dr. Jacek Siewiera, the commander of the Polish team in Chicago. "Today, the threat is COVID-19."
Several other state partners have also contributed to the COVID-19 fight in U.S. In addition to sending medical troops, other nations have also donated aid in the form of protective equipment or medical supplies.
The State Partnership Program, which began in 1993 with former Soviet republics, now includes partnerships with more than 84 countries across the world.
The Polish medical staff visited several area hospitals last week, making treatment and environment of care recommendations based on their experience in Lombardy, Italy, which was heavily impacted by coronavirus earlier this year.
The visitors had insights and ideas their American counterparts had not thought of and had no experience undertaking, according to Col. Eric Vaughn, a civilian trauma surgeon and officer in the Illinois Air National Guard. The European medical workers also offered glimpses of what the future will look like as the virus continues to spread.
"After four or five weeks the admissions were highly related to much younger patients, below 50 years old," Siewiera said. "This COVID-19 is different from other viral pneumonia. It does not take one week to recover like the flu, but if the condition of the lungs is bad and the injury of lungs is in place, the treatment will last for long, long weeks or even months."
Health care professionals outside of Illinois are also benefiting from the partnership. The Polish team has been attending virtual meetings with physicians from across the country, answering questions and explaining how they battled the coronavirus in Europe.
"They are providing education for us nationally, putting on academic webinars, where everybody is dialing in," Vaughn said. "It is not just Illinois, but doctors from the entire U.S. and around the world are dialing in and sharing best practices and firsthand information about the management of COVID-19. It is a huge information sharing and learning opportunity.