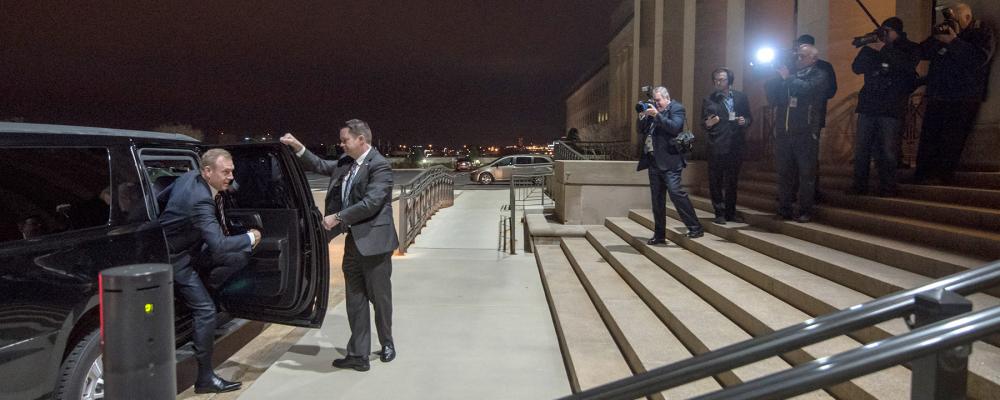 Patrick M. Shanahan is now the top official in the Defense Department.
Shanahan, a former Boeing executive who most recently served as deputy defense secretary, became acting defense secretary upon the departure of James N. Mattis, a retired Marine Corps general who had served as President Donald Trump's top defense official for two years.
Mattis, a popular military leader who received bipartisan support, announced his resignation last month and had been set to stay in his position until February. Instead, Trump decided to move ahead with Shanahan as acting secretary.
Shanahan, 56, worked at Boeing from 1986 to 2017, rising to the position of senior vice president of supply chain and operations. He joined the Defense Department without any prior military service.
In a message to the department Jan. 1, Shanahan said he looked forward to working with Trump "to carry out his vision alongside strong leaders including the service secretaries, the Joint Chiefs of Staff, the combatant commanders, and senior personnel in the Office of the Secretary of Defense."
He also praised Mattis' lifetime of service and said it was a privilege to serve.
"The Department of Defense continues to be one of our nation's bedrock institutions," Shanahan said. "Our foundational strength lies in the remarkable men and women who volunteer to serve our country and protect our freedoms, while making immense personal sacrifice. It is an honor to work with such a dedicated team committed to the greatness of our nation."
In his farewell message, Mattis quoted a letter sent to Gen. Ulysses S. Grant from President Lincoln in 1865. It read: "Let nothing which is transpiring, change, hinder, or delay your military movements, or plans."
Mattis said serving was a high honor and offered words of encouragement to those he worked alongside.
"Our Department's leadership, civilian and military, remains in the best possible hands," he wrote. "I am confident that each of you remains undistracted from our sworn mission to support and defend the Constitution while protecting our way of life. Our Department is proven to be at its best when the times are most difficult. So keep the faith in our country and hold fast, alongside our allies, aligned against our foes."