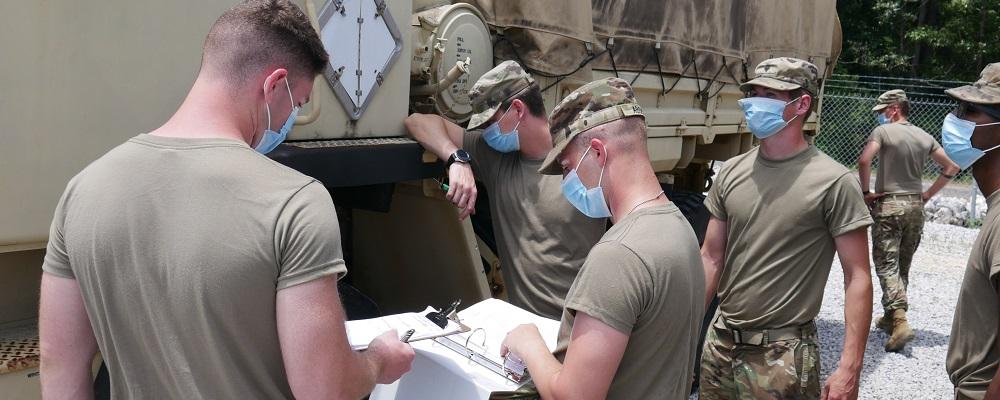 President Trump on Monday extended the Title 32 deployment of National Guard soldiers and airmen for COVID-19 relief but ordered most states to begin picking up 25% of the cost after Aug. 21, the previous expiration date of the mission.  
The Federal Emergency Management Agency had been covering its full cost since March. It will continue to pay 100% of the funding for Florida and Texas. 
The White House memo to the secretaries of defense and homeland security extends the mission through the end of 2020. 
It came as governors in both parties were pleading with the administration to extend the Guard assistance, warning that a lapse in funding could jeopardize the pandemic response.
About 25,000 Guardsmen in 50 states, three territories and the District of Columbia are currently on the COVID-19 front lines. Most are on Title 32 orders. More than 46,000 Guard soldiers and airmen were on duty during the height of the mission in May.
They are performing a myriad duties, including managing test centers, delivering food and medical supplies, disinfecting long-term health facilities, and staffing call centers that assist applying for unemployment benefits. 
With tax revenue off due to the downturn in the economy, it is not known how many states will be able to pay their new share of the mission's costs. 
Governors, through the National Governors Association, asked the president on Monday to authorize an extension of the use of Title 32 for Guard coronavirus operations. Title 32 provides federal dollars and benefits, but keeps Guardsmen under state control.
In a statement released Monday, NGA said short-term extensions and last-minute authorizations are adversely impacting and disrupting state plans and operations.
"Though the current extension is authorized until Aug. 21, duty status cannot be changed on a dime," officials said. "Over the weekend, states and territories were already forced to start the transition process for Guard members to ensure compliance with required quarantine policy. Likewise, states and territories will begin the paperwork and training of new Guard members in state active duty starting today."
NGAUS has previously advocated for such an extension, with most states seeking an extension through the end of the calendar year.
The association is also pushing for post-deployment transitional health care benefits for Guardsmen performing COVID-19 response missions under Title 32.
In a letter to House and Senate leaders last week, NGAUS officials asked that The Support Our National Guard Act (S. 3713 and H.R. 6967) be included in upcoming COVID-19 relief legislation.
"While we greatly appreciate you including this benefit within the Senate-passed and House-passed versions of the fiscal year 2021 National Defense Authorization Act, time is of the essence and we believe it is critical to authorize post-deployment transitional health care as soon as possible," the letter reads.
The legislation would require the Defense Department to provide Guardsmen responding to the pandemic with six months of post-deployment care, ensuring no lapse in health care coverage. Currently, Guardsmen only qualify for such care following overseas deployments.