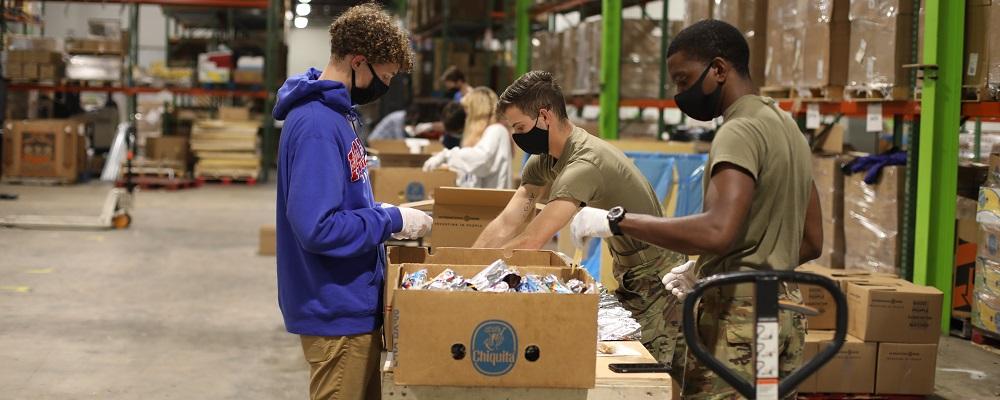 Vice President Mike Pence says he will lobby President Donald Trump to extend federal support for the National Guard's coronavirus mission.
Pence promised a group of governors on Monday that he would talk to the president about the issue, according to POLITICO.
The federal government had covered all costs of the Guard's Title 32 deployments earlier this year, but the current authorization, which expires Dec. 31, requires every state and territory but Florida and Texas to fund 25% of pay, allowances and other expenses.
Pence's discussion with governors came after President-elect Joe Biden pledged to extend and fully fund the Guard's pandemic-related mission.
States, which are depending on the Guard for testing, delivering supplies, stocking food banks and sanitizing facilities that include nursing homes, are worried about a possible gap in authorization between the end of the year and Biden's inauguration Jan. 20.
As of this week, nearly 21,000 Guard soldiers and airmen are on COVID-19 duty, nearly all of them on Title 32 orders. Fifty states and territories have requested an extension of the mission.
Pence's remarks came during a pandemic-focused call with several governors, including Louisiana's Gov. John Bel Edwards, a Democrat, and Massachusetts' Gov. Charlie Baker, a Republican, according to POLITICO. The two governors were among those who pressed Pence on the Guard support.
Pence, a former governor of Indiana, said the extension was "under active consideration" and "heading to the president's desk for a decision," according to the report. And he twice promised to "personally raise this issue with President Trump."
In the interim, state leaders have to plan for a possible end of federal support, according to POLITICO.  
"We're having to develop the plan for no National Guard support after Dec. 31," said Maj. Gen. Matt Quinn, the adjutant general of Montana and the president of the Adjutants General Association of the United States, according to the publication. "We keep asking the Guard Bureau what they're hearing and there are just so many unknowns."
At the peak of the Guard response, more than 47,000 Guardsmen were on COVID-related duties across all 50 states, three territories and the District of Columbia.
To date, the Guard has helped facilitate 9.3 million tests or screens for the virus; packaged, served or delivered 584 million meals; distributed 387 million masks, gloves, gowns and other personal protective equipment; and sanitized 2,300 facilities.