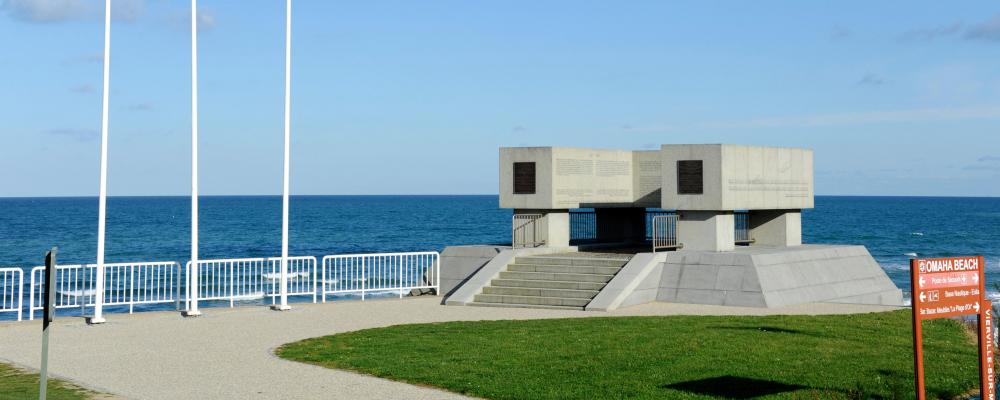 A small delegation from the arm of NGAUS that preserves and tells the Guard story is heading to Normandy, France, this week to help mark the 75th anniversary of D-Day.
Maj. Gen. Donald Dunbar, the chairman of NGAUS and the National Guard Educational Foundation, will lead the group of NGEF officials and staff to honor the Guard role in the Allied landings during World War II.
Their big event will be a wreath-laying ceremony at dawn Thursday at the National Guard Monument in the village of Vierville-sur-Mer. The monument sits on top of an old German pillbox overlooking a stretch of shoreline still called Omaha Beach.
NGAUS constructed it in 1965 and dedicated it 1969 as a tribute to every Guardsman who fought in Europe in World War I and II. NGEF maintains the monument and has returned every five years on June 6 to lay a wreath since the 25th anniversary of D-Day.
"The monument is one of the foundation's crown jewels," said Anne Armstrong, the NGEF's deputy director. "It stands tall over Omaha Beach, commanding attention and telling visitors that the National Guard was here on D-Day and everywhere else the U.S. Army went in Europe during the two most important events of the 20th century."
Guardsmen were part of the first wave on D-Day. Many members Virginia's 116th Regimental Combat Team, part of the 29th Infantry Division, were killed before they even reached what became known as "Bloody Omaha."
But the unit did ultimately establish a beachhead that enabled more troops to land and begin the liberation of France. They included divisional elements from Maryland and the District of Columbia.
Guard units from California, Iowa, Kansas, Michigan, New Jersey, New York, Ohio and Pennsylvania also participated in the invasion on D-Day. 
Four D-Day veterans from the 29th plan to attend the wreath-laying ceremony. They are among the few still around. 
Less than 500,000 of the 16 million Americans who served in World War II are still living today, according to projections by the U.S. Department of Veterans Affairs. An estimated 348 World War II veterans die every day. Fewer than 100,000 of those veterans will still be around for the 80th anniversary, and only a small fraction of them will be D-Day veterans.

The wreath-laying ceremony is one of several D-Day commemoration events set for Normandy this week. The schedule also includes military parades, firework displays, airdrops, concerts and military camp re-enactments.
Thousands of visitors will flock to northern France to attend. Among them will be heads of state, including President Donald Trump. His plans include a visit to the Normandy American Cemetery in Colleville-sur-Mer, which is on the bluffs overlooking Omaha Beach.