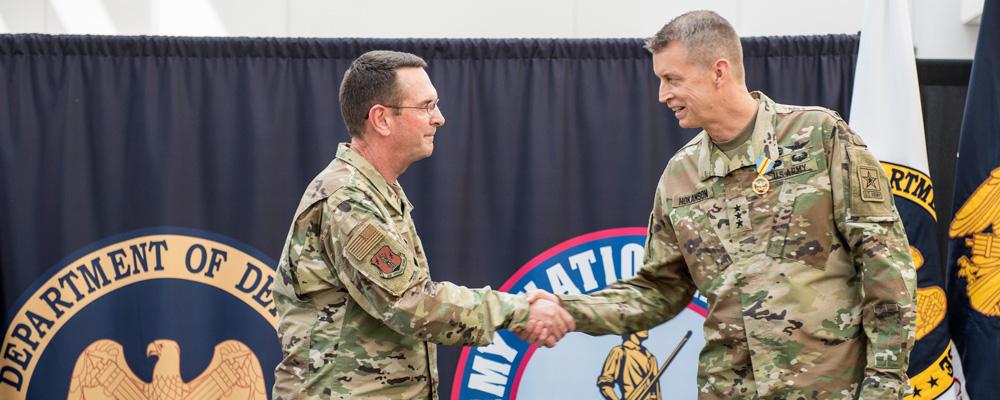 Lt. Gen. Daniel R. Hokanson is the Army National Guard's new top officer.
Hokanson, an Oregon Guardsman, officially became Army Guard director at a ceremony Friday at the Herbert R. Temple Jr. Army National Guard Readiness Center in Arlington, Virginia.
His follows the leadership of Lt. Gen. Timothy Kadavy of Nebraska, who was director from March 2015 until March of this year. Maj. Gen. Charles W. Whittington of Maryland had served as acting director since that time.
Gen. Joseph Lengyel, the chief of the National Guard Bureau, noted the odd timing of the transition.
"This was all supposed to happen a couple of months ago," he said.
The Senate confirmed Hokanson, who previously served as the NGB vice chief, to be the Army Guard director in April. But Kadavy, who was nominated at the same time to take Hokanson's old job, has yet to see his nomination come to a vote in the full Senate.
Lengyel praised Kadavy during the ceremony. He said he had watched the general work hard for the Army, the National Guard and the nation and led the audience in a round of applause for the Nebraska Guardsman, who did not attend the ceremony.
In Hokanson, Lengyel said the Army Guard is receiving a leader who has "trained his whole life to be here."
"Who is better prepared for the job?" Lengyel said before tracing Hokanson's career from the U.S. Military Academy at West Point, New York, in 1986 to present day.
In between, Hokanson, who began his career as an aviator, deployed twice to Iraq —once as commander of the 41st Infantry Brigade Combat Team — and one to Afghanistan. He later served as Oregon adjutant general and at U.S. Northern Command before going to NGB.
Now, he's set to make a big impact on the Guard as the Army looks to transform to be better prepared for possible near-peer fights and strives to deploy faster for any fight.
To do that, leaders in Arlington must work to get states, their soldiers and their families the tools they need to better the force, Lengyel said.
"We aren't shooting guns, we aren't driving tanks, we aren't flying airplanes," he said of the role of the Army Guard directorate. "We aren't saving people's lives, but we plan for it and we enable the people that do."
He also noted that the Guard has changed significantly in its history, which dates back to its formation in Massachusetts in 1636, nearly 383 years ago. But one thing has remained constant, he said, "and that's our people."
The new director noted that approximately 29,000 Guard soldiers are currently deployed in support of combatant commanders and exercises around the globe. Another 5,000 soldiers are serving in homeland defense and emergency response missions.
He noted the selfless service and sacrifice needed from those soldiers, their families and their employers, and pledged his staff would do all it can to support soldiers and their families across all 54 states, territories and the District of Columbia.
"People may not remember what you say," Hokanson said, "but they will never forget what you do."