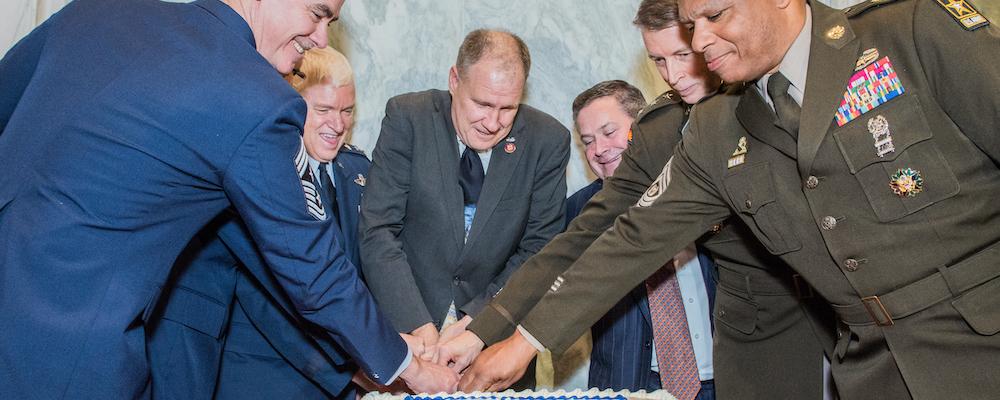 NGAUS and the National Guard Bureau will celebrate the 385th anniversary of the birth of the National Guard tomorrow with a cake-cutting ceremony at the National Guard Memorial, the association headquarters in Washington, D.C.
Lawmakers and some congressional staffers are expected to join NGAUS and NGB leaders for the event.
The association typically holds the event in one of the House or Senate office buildings, but lingering COVID-19 restrictions on gatherings on Capitol Hill prevented that this year. NGAUS was unable to hold the event anywhere in Washington, D.C., in 2020.
"It's always great to get together and mark the birth of the nation's oldest military organization," said retried Brig. Gen. J. Roy Robinson, the association president. "This year it's extra special because we weren't able to gather last year and, more importantly, because of all the Guard has done for the country the last two years."
Guard soldiers and airmen logged a record of more than 10.9 million days serving their communities nationwide in 2020 – more than four times as many as 2019.
The events of 2020 required an unprecedented response to various unforeseen events within the homeland. Most significantly, Guardsmen served more than 7.6 million days in support of the COVID-19 pandemic — a mission that continues today.
They were also called in June 2020 to bring calm when many cities nationwide became powder kegs.  During one week that month, nearly 90,000 Guard soldiers and airmen mobilized for domestic operations. That's almost double the previous high. And another 30,000 were overseas.
Early this year, more than 26,000 Guard soldiers and airmen helped secure the U.S. Capitol in Washington, D.C., for the 59th Presidential Inauguration after the Jan. 6 attack on the halls of Congress.
There have also been multiple Guard responses to wildfires, hurricanes, floods and cyberattacks the last two years.
Dec. 13 is actually the recognized birthday of the National Guard. On that date in 1636, Massachusetts colonial legislature directed the existing village militia companies to organize into the North, South and East regiments to better defend the colonies.
Today, the descendants of these first regiments — the 181st Infantry, the 182nd Infantry, the 101st Field Artillery and the 101st Engineer Battalion of the Massachusetts Army National Guard — share the distinction of being the oldest units in the U.S. military.
The National Guard Heritage Painting of the First Muster depicts the first muster of the East Regiment in Salem, Massachusetts. It is often used to illustrate the beginnings of the National Guard, but it occurred sometime after Dec. 13, 1636.