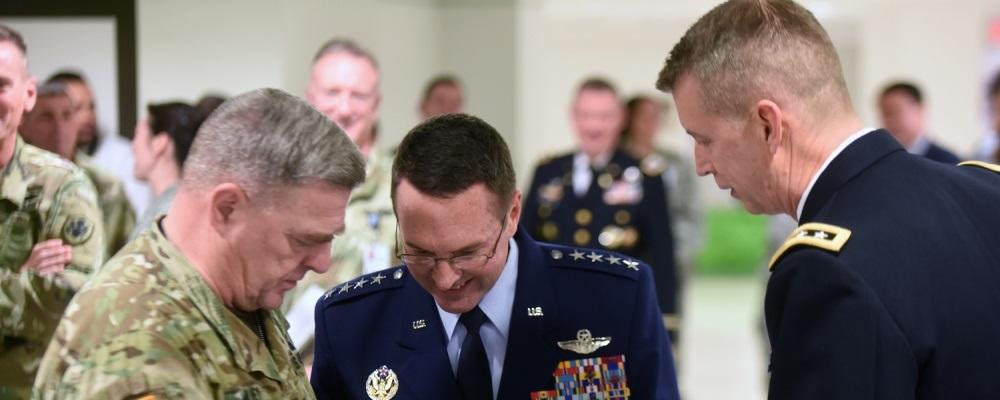 Confirmation hearings for the next chief of the National Guard Bureau and director of the Air Guard could take place as early as this month.
Lt. Gen. Daniel Hokanson was nominated to serve as the next NGB chief last week. If confirmed by the Senate, he will be promoted to four-star general and serve on the Joint Chiefs of Staff. Maj. Gen. Michael Loh was nominated at the same time to lead the Air National Guard.
Hokanson, the current director of the Army National Guard, would replace Air Force Gen. Joseph Lengyel, who has served as the 28th chief of the National Guard Bureau since August 2016. Loh, the adjutant general of Colorado, would replace Lt. Gen. L. Scott Rice, who has served as Air Guard director since May 2016.
"I am truly humbled and honored by the nomination to serve as the next chief of the National Guard Bureau," Hokanson said. "If confirmed, I look forward to building upon the outstanding legacy left by General Lengyel and the many other National Guard leaders who have served our states and nation with great distinction."
Lengyel praised his potential replacement, who previously served as his vice chief from November 2016 until June 2019.
"Lieutenant General Hokanson is an outstanding leader who clearly understands the evolving and complex strategic environment we face at home and abroad," the current chief said. "His unmatched experience and accomplishments at the state and national levels will help ensure our Guard force is ready and able to implement the National Defense Strategy and remain a strong and trusted partner on the battlefield and during domestic responses."
Hokanson, who served as Oregon's adjutant general from 2013 to 2015, said representing the more than 450,000 Guardsmen and their families in the Army and Air National Guards would be a privilege for him and his wife, Kelly.
"If confirmed, we look forward to working every day to ensure the greatest National Guard force in history continues to serve our communities and nation," he said.
Loh, too, has been praised following his nomination. His Senate confirmation is scheduled for May 21, according to the Colorado National Guard.
"I am tremendously honored to receive this nomination, privileged to have the potential to continue to serve our nation, and proud to be a National Guardsman," Loh said.
Loh has dedicated his career to public service, said Colorado Gov. Jared Polis. And the state is grateful for his contributions and leaders.
"Colorado wishes him the best of luck and knows his expertise will be an incredible asset to our country and the Air National Guard," the governor said.