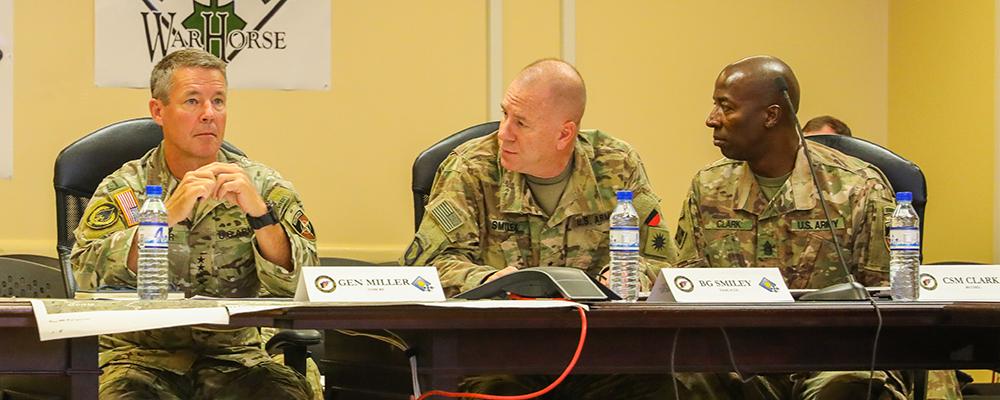 Gen. Austin Scott Miller took charge Sunday of the nearly 17-year NATO mission to prevent Afghanistan from becoming a place where terrorists feel secure.
"The world recognizes Afghanistan cannot be safe haven for terrorism. The world recognizes that we cannot fail," Miller said at the change-of-command ceremony. "I know this has been a long fight, and it has been generations for us, for the Afghan people."
He urged the Taliban to accept a cease-fire offer and begin negotiations for peace, saying, "You don't need to keep killing your fellow Afghans."
Miller, who follows Gen. John Nicholson in the position, was most recently the commander of Joint Forces Command. In 2013 and 2014, he served in Afghanistan as the head of Special Operations forces.
During his confirmation hearing before the Senate, he said, "The more I stay there, sometimes the more difficult it becomes to understand. I think I recognize what I do not understand at this stage of my career."
The Washington Post said Miller's tenure begins at a "delicate point" in the long-running war. The Taliban controls about 14 percent of the 407 districts in the country and contests about 30 percent, according to a recent government report.
The new commander has endorsed the strategy of President Donald Trump, which increased troop levels and provided more freedom to conduct air strikes. But he has not made any declarations of progress and says he will not unless they are warranted.
He told lawmakers he could not describe an end date or a timeline for the war.
A military official close to Miller and aware of his thinking on the war told The Post Miller is open to changes in the Trump strategy. He also wants to meet with troops from the 41-nation coalition.
"He specifically said he wants to get down and meet with first sergeants and platoon sergeants," the official said.