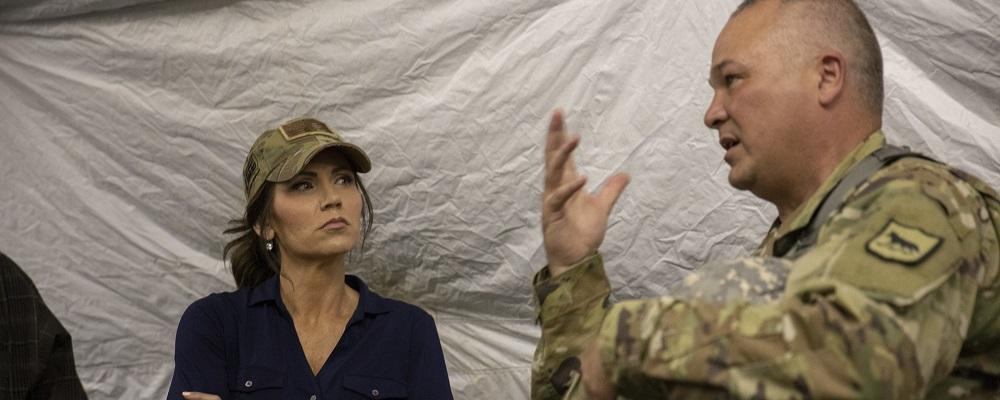 The decision by South Dakota Gov. Kristi Noem to send 50 National Guard troops to the southern border made an outsized number of headlines after it was revealed the state was using a private donation to pay for the deployment.
Using private donations to fund missions is not unheard of in Guard history, especially in the years before more adequate federal funding. In the late 1800s, National Guard soldiers responding to numerous violent protests involving railroad workers and other industries, often with those missions paid for by the industries themselves.
Guard units also previously accepted private donations to fund armories.
The South Dakota deployment was one of several small troop movements to the border recently announced by Republican governors.
Legal experts have said they believe the move to be above board, but others have questioned the optics and called for clarification.
Rep. Adam Smith, D-Wash., chair of the House Armed Services Committee, said the Guard should not be treated like a private militia. He pledged to put pressure on Defense Secretary Lloyd Austin and other defense leaders to prevent future deployments funded by private donations.
Some Republicans have also been critical of Noem. Arkansas Gov. Asa Hutchinson said the move set a "bad precedent."
Hutchinson told CNN's State of the Union that while states use some private funding, he believed it appropriate for Guard troops to be paid for from the state's budget when responding to emergencies.
The South Dakota deployment to the Texas border was funded by Tennessee billionaire and Republican donor Willis Johnson.
"I'm trying to help out the governor and help America," Johnson said, according to reports.
Other states sending troops to the border include Iowa, Georgia, Nebraska and Florida. The help comes after Texas Gov. Greg Abbott asked for assistance.
Republican governors have been largely critical of the Biden Administration's handling of the border, calling it a national security threat even as President Biden ended the national emergency there early in his term.