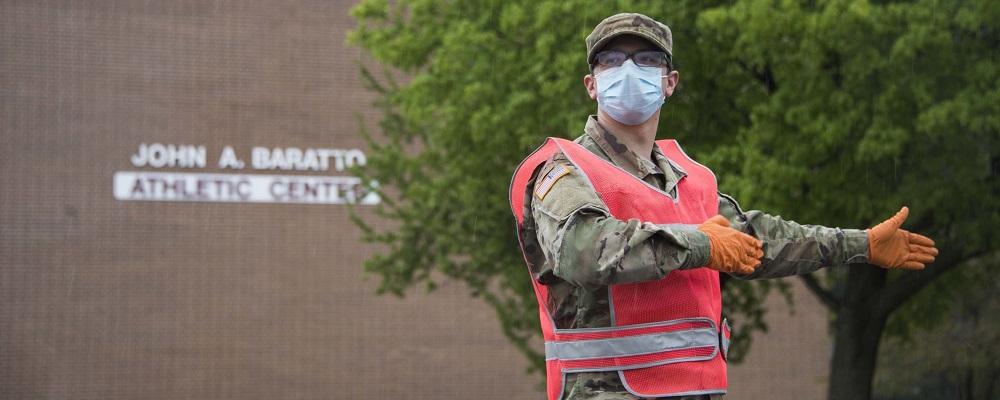 A bill that would provide transitional medical coverage for Guardsmen serving on the front lines of the COVID-19 pandemic is expected to be introduced this week.
The Support Our National Guard Act will be co-sponsored by Sen. Joe Manchin, D-W.Va., and Sen. Joni Ernst, R-Iowa. Both are members of the Senate Armed Services Committee.  
The legislation would provide transitional benefits to Guardsmen who are serving under federal Title 32 502(f) orders. It would offer coverage that is routinely available to them when they return from overseas mission, but is not available for those who respond to domestic emergencies.
Last month, NGAUS urged Defense officials to provide transitional TRICARE medical coverage to Guardsmen as they demobilize from coronavirus-related missions. This bill would provide a legislative fix to the issue.
"As we fight the COVID-19 pandemic, our National Guard service members are on the front lines, providing support for unemployment programs, feeding members of their communities and ensuring hospitals receive essential PPE and other medical supplies," said Manchin, who was also part of efforts along with NGAUS to extend federal Title 32 orders to 31 days to allow Guardsmen to qualify for TRICARE medical coverage while serving COVID-19 missions.
"Every day they put themselves at risk to take care of their fellow West Virginians, and I am proud to introduce bipartisan legislation with Senator Ernst to ensure our service members receive the transition benefits they deserve," he said.
Ernst, a retired lieutenant colonel and combat veteran who served with the Iowa Army Guard, said Congress must make sure the hardworking men and women of the Guard can use their military health insurance, TRICARE, for at least six months after their mission.
"This is common sense and will take a huge burden of worry off our military families," she said. "I'm proud to co-sponsor this bipartisan effort to ensure continuity of health care to our service members who have rushed to help Iowans and Americans during this crisis."
As of Monday, more than 46,400 Guardsmen are supporting the COVID-19 response at the direction of their governors. The vast majority were on federal Title 32 orders, with 44 states, three territories and the District of Columbia having been approved for use of federal Title 32 funds.
Missions include distributing food and medical supplies, manning call centers and supporting testing. Over 1,000 Guardsmen have tested positive for COVID-19 since the pandemic began.