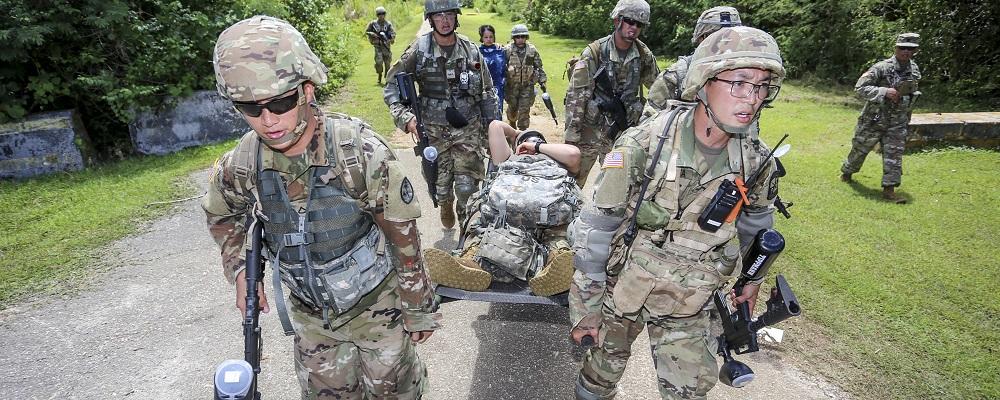 Colleges and universities across the country are making the tough choice as to whether they will allow students back on campus in the age of the coronavirus.
Many institutions still have yet to decide what their fall semester will look like. But at least 729 schools will be offering classes primarily online. 
For cadets of the Army's ROTC, those online classes will include military science.
"You can deliver some ROTC curriculum virtually," said Maj. Gen. John R. Evans, Jr, the commander of Army Cadet Command. "What we can't replicate are those hands-on practice tasks delivered during the once a week military science labs."
Evans said that whether or not his cadets will be meeting in person for the hands-on portion of the ROTC curriculum is largely up to the universities.
However, Evans said that he is pressing those institutions that are taking an online-only approach to grant exceptions.
In an extreme case where students cannot complete the in-person training on school grounds, the professors of military science who are in charge of the school's ROTC program may try to conduct in-person training at a nearby military facility.
Students who do not live close to campus may also be given the option to train with ROTC programs in their hometowns.
Most of the ROTC curriculum is available through virtual learning platforms. Evans said that when the coronavirus first hit the U.S. in the spring, his cadre of instructors developed "awesome online content" to keep cadets engaged and meeting requirements.
Some military science instructors went as far as to appear through video-conference programs wearing full camouflage face paint and spoke and acted as though they were out in the field. 
He said the command is giving instructors flexibility to design their own curriculum, as long as it covers the key objectives.
Some ROTC cadets are also enrolled in the Simultaneous Membership Program, which allows students who are also Guardsmen to be paired with and mentored by an officer in their Guard unit and allows them to earn drill pay.
SMP cadets are also eligible for the Guaranteed Reserve Forces Duty scholarship, which in some cases covers 100% of tuition.
It also means that if the unit is activated, the SMP cadet may miss school to meet his or her service obligation.
And although nearly 100,000 Guardsmen have been activated this year to fight the coronavirus or to assist authorities during civil unrest, Evans said "anecdotally, my brigade commanders have told me that the activations of National Guardsmen have not had significant impacts [on SMP cadets]."
Outside of the normal school schedule, cadets normally attend the ROTC Advanced Camp at Fort Knox, Kentucky, during the summer between their junior and senior years. The event is the largest annual training exercise hosted by the Army and sees about 10,000 cadets make their way through the training in the span of 100 days.
The coronavirus forced Cadet Command to change the summer training portion as well. This year, cadets took part instead in Operation Agile Leader, which was spread across 74 separate training events in more than 50 Army locations, including several Guard sites.
The Agile Leader training allowed ROTC commanders to train and test cadets in much smaller groups and allowed for proper social distancing. It also cut the number of training days down from 30-35 to only 7-10.
"We're just about halfway through Agile Leader," Evans said. "We've been absolutely amazed by our ability not to have COVID-19 spread during those events."
Cadet command wants to return to Fort Knox in summer 2021, but what that training will look like depends on how the coronavirus situation is next year. But Evans said he is "preparing to do a COVID-informed cadet summer."