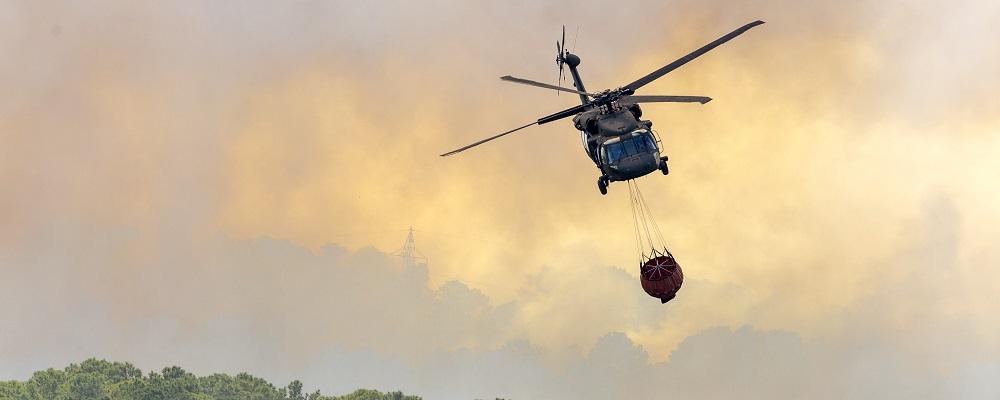 Fourteen Senators — all Democrats — have written Gen. Daniel R. Hokanson, the chief of the National Guard Bureau, requesting an appraisal of Guard's capabilities to help state authorities fight wildfires.
"As devastating fires of historic proportion continue to ravage the United States, we ask you to provide us an assessment of the National Guard's ability to prepare for, respond to, and help state firefighting forces recover from wildfires," the senators wrote in an Oct. 22 letter.
"A frank estimation will help Congress address any gaps and use every resource available to respond to this year's fires," they continue. It will also help us better resource and equip the Guard for a future in which human-driven climate change will make fire seasons increasingly severe and destructive.
"We commend all the heroic men and women of the National Guard who have been responding to raging wildfires as part of a federal, state, and local effort," they concluded. "With a more complete understanding of the Guard's ability to respond, we can ensure proper resourcing and will be better able to keep our Guard members always ready and always there."
The senators requested that the National Guard provide an assessment of trained personnel and equipment availability and work to develop coordinated regional planning with governors.
The letter was signed by Sen. Dianne Feinstein, D-Calif., Sen. Michael Bennet, D-Colo., Sen. Tammy Duckworth, D-Ill., Sen. Jon Tester, D-Mont., Sen. Martin Heinrich, D-N.M., Sen. Tom Udall, D-N.M., Sen. Chuck Schumer, D-N.Y., Sen. Ron Wyden, D-Ore., Sen. Jeff Merkley, D-Ore., Sen. Bob Casey, D-Pa., Sen. Patrick Leahy, D-Vt., Sen. Bernie Sanders, I-Vt., Sen. Maria Cantwell, D-Wash., and Sen. Patty Murray, D-Wash.
Schumer is the Senate Minority Leader; Leahy is a co-chair of the Senate National Guard Caucus.  
This has been an exceptionally bad year for wildfires. To date, 47,277 wildfires have burned 8,594,636 acres, according to the National Interagency Fire Center in Boise, Idaho. The number of acres burned is nearly 2 million acres more than the 10-year average.
Out West, late summer's hot, dry and windy conditions fuel the blazes, which are often ignited by lightning. The region is a tinder box until the winds subside and the autumn rains begin.
The hardest hit this year has been California, where more than 8,000 separate fires have already burned a record 4.1 million acres — an area larger than the state of Connecticut. The previous high was 1.8 million acres. One fire alone surpassed 1 million acres.  
The fires have claimed 31 lives and damaged or destroyed more than 10,500 structures, according to the California Department of Forestry and Fire Protection.
Roughly 1,200 California Guardsmen have been in the fight. They have helped firefighters clear buffer zones, dropped water and fire retardant from the air, and monitored the racing fires with remotely piloted aircraft.  
They have been aided by Army Guard aviators from several states, including Arizona, Idaho Utah, West Virginia and Wisconsin.
Air Guard units have also seen action. Aircrews and C-130 Hercules equipped with U.S. Forest Service-provided Modular Airborne Fire Fighting Systems mobilized in late July to help combat fires in California.
Four airlift wings across the Air Guard and Air Force Reserve each have two aircraft with MAFFS. They can discharge 3,000 gallons of retardant to create a fire-containment line on the ground one-quarter of a mile long by 100-feet wide.
This fire season has seen the need for all four: California's 146th Airlift Wing, Nevada's 152nd Airlift Wing, Wyoming's 153rd Airlift Wing and the Air Force Reserve's 302nd Airlift Wing from Colorado. They have dropped more than 1.3 million gallons of fire retardant this year.