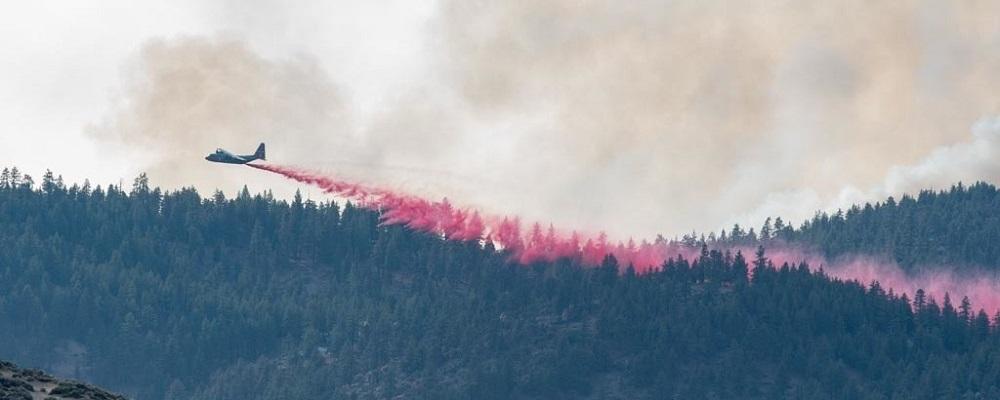 Guardsmen from at least seven states are currently supporting firefighting efforts across the American west, part of a busy fire season that has grown to become a year-round effort.
Gen. Daniel R. Hokanson, the chief of the National Guard Bureau, recently visited some of those soldiers and airmen. He told reporters last week the effort was in good hands.
"We've got 500 people and about 19 aircraft," Hokanson said. "I think we have the capability to put over 200 aircraft … and all the support personnel to do that. It's roughly probably less than 10% of what our capability is right now. So, we're in a pretty good spot right now."
The effort spans several states, with most Guardsmen helping to battle the Dixie fire in northern California, the Bootleg fire in Oregon and the Lick Creek fire in Washington. Smaller fires are also being fought in Montana and Idaho.
The Dixie fire has burned more than 200,000 acres and was about a quarter contained as of earlier this week. The Bootleg fire has burned 413,000 acres and is more than half contained. And the Lick Creek fire is more than 90% contained.
The Guardsmen battling the blazes represent California, Idaho, Montana, Nevada, Oregon, Washington and Wyoming, according to the National Guard Bureau. That includes four C-130 aircrews operating the Mobile Airborne Firefighting System.
The four MAFFS crews, representing three states, have made 273 drops and completed 280 sorties while fighting the fires.
"When you see a plane come in and leave that big red streak of fire retardant, those are [MAFFS]," Hokanson said. "We use our C-130s to do that. And then we use a lot of helicopters as well, with buckets. And they usually scoop up water nearby and drop it on the fire."
Hokanson said the Guard has had to change its approach to wildfires. With widespread and destructive fires becoming more common, the Guard in western states is treating fires more like southeastern states treat hurricanes, prepping for potential back-to-back disasters and strengthening ties with neighbors for a more regional response.
That cooperation has allowed Guard units to backfill the vehicles, manpower and aircraft that have been in high demand this past year amid multiple domestic missions and overseas deployments.
A changing climate has also forced the Guard to alter how it readies for fires.
"We just look at the environment and do everything we can to prepare for it, which in some cases means getting trained earlier in the year," he said. "And then sometimes we have to make sure that we're ... programmed to go the duration. Fortunately, like on the Dixie fire, they had rain the other day, which really helped. I wish we could predict that, but we can't. We're just there to do everything we can and what we can control."