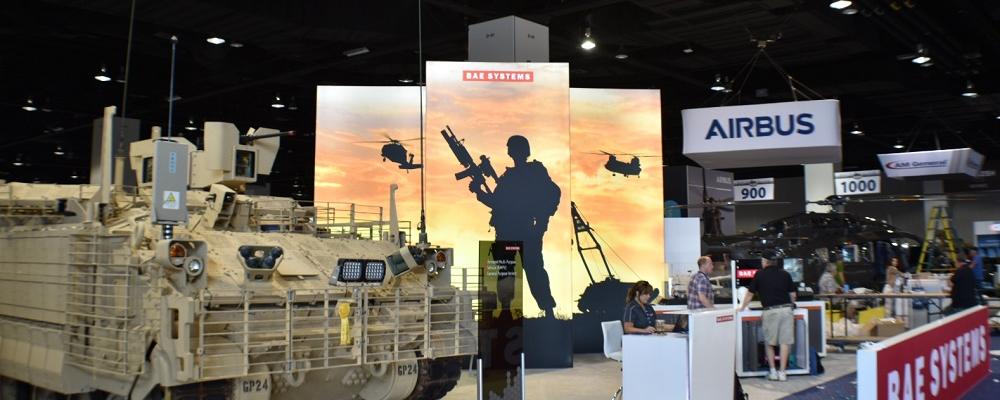 More than 300 companies and organizations are in Denver to display their wares and services during the 141st NGAUS General Conference & Exhibition.
Located on the upper level of the Colorado Convention Center, the exhibit floor will feature displays from major defense contractors, small businesses, nonprofit agencies and military organizations.
The hall will be open from 10:40 a.m. to 5 p.m. on Saturday, from 8 a.m. to 5 p.m. on Sunday and from 8 a.m. to 12:30 p.m. on Monday.
Of the 300-plus exhibitors, roughly half are corporate NGAUS members. One-third of this year's exhibitors are attending the conference for the first time.
The General Conference & Exhibition presents a rare opportunity for companies and organizations to market products and services to Guard leaders from all 50 states, Guam, Puerto Rico, the U.S. Virgin Islands and the District of Columbia. It is the largest trade show marketed solely to the National Guard.
The exhibition is one of two major events held each year for NGAUS industry partners.
In December, industry leaders will gather in Washington, D.C. for the 23rd annual Industry Day. NGAUS platinum partners receive two free entries to the event. Gold partners receive one free entry.
Industry Day will be held Dec. 9-10. Registration is currently open. For more information, contact NGAUS at [email protected] or visit www.ngaus.org/events/23rd-annual-industry-day.