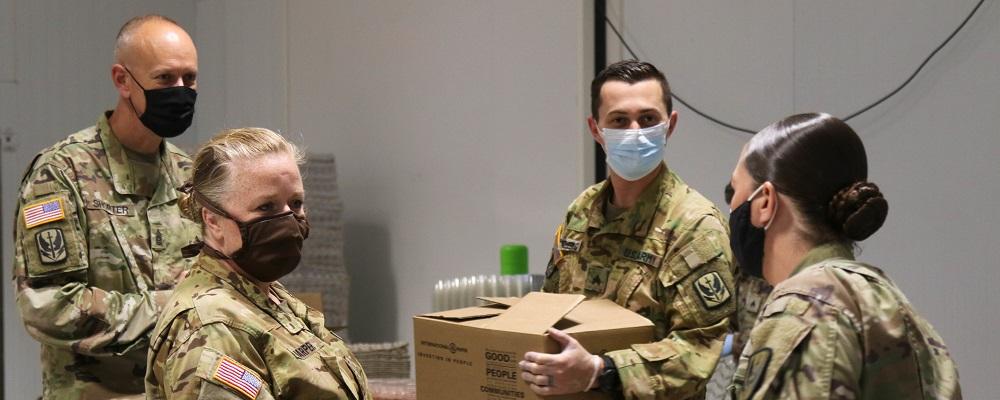 Bipartisan legislation would provide transitional medical coverage for Guardsmen involved in the COVID-19 fight.
The Support Our National Guard Act (H.R. 6967) was introduced Friday by Rep. Joe Cunningham, D-S.C., and Rep. Steven Palazzo, R-Miss. The bill is a companion to legislation introduced in the Senate (S. 3713) last week by Sen. Joe Manchin, D-W.Va., and Sen. Joni Ernst, R-Iowa. 
The legislation is endorsed by NGAUS, which has been advocating for transitional health coverage for Guardsmen risking their health on the front lines of the coronavirus pandemic.
If approved, the Support Our National Guard Act would provide six months of transitional TRICARE coverage for Guardsmen as they are demobilized from pandemic-related missions.
As of last week, nearly 46,000 Guardsmen were serving in COVID-19 missions, the majority on Title 32 502(f) orders, which provide federal funds while keeping Guardsmen under the command and control of their states. 
Currently, Guardsmen mobilized under such orders are not eligible for transitional health care, which is provided for other federally funded duty orders. The legislation would require the Defense Department to provide the benefits to any service members activated in support of the pandemic.
"The South Carolina National Guard has provided critical support to our state's COVID-19 response efforts, serving alongside doctors, nurses, first responders and other heroes of the coronavirus pandemic," Cunningham said. "They've put themselves at great risk each day to provide indispensable help establishing provisional hospitals, feeding members of their community, and ensuring hospitals receive essential PPE and other medical supplies."
The bill's sponsors said the fix is a matter of common sense.
"The National Guard has always been ready to serve the American people, no matter how big the challenge," said Palazzo, who co-chairs the House National Guard and Reserve Caucus and serves in the Mississippi National Guard. "As the coronavirus spread through the nation, members of the Guard once again put the needs of others before their own."
NGAUS previously urged Defense officials to provide transitional TRICARE coverage. Guardsmen are serving on federal Title 32 orders in 44 states, three territories and the District of Columbia. Missions include distributing food and medical supplies, manning call centers and supporting testing. Over 1,000 Guardsmen have tested positive for COVID-19 since the pandemic began.
"These soldiers and airmen have been on the front lines of the worst public health crisis in more than a century," said retired Brig. Gen. J. Roy Robinson, the NGAUS president. "It would be unconscionable to send the home to their families without medical coverage."
"Active-component personnel coming off the same front lines have coverage, and rightly so," he added. "All we are asking is that we treat Guardsmen the same way."