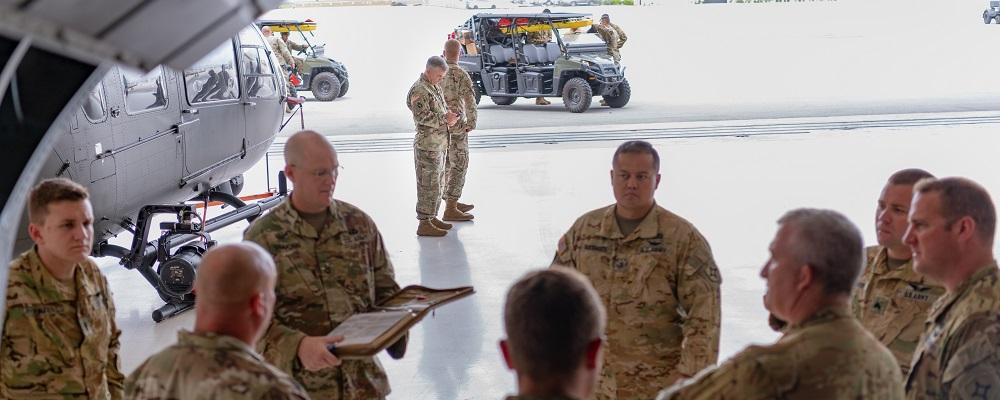 More than 5,500 National Guardsmen are on duty in Florida, Georgia and North and South Carolina as Hurricane Dorian creeps closer to the southeast coast on Tuesday.
The states have stood up forces in order to assist in preparation efforts and stand ready to respond following any storm damage.
The hurricane, which was downgraded to a Category 2 storm earlier Tuesday, is expected to created life-threatening storm surges and dangerous winds along portions of the coasts of Florida, Georgia and the Carolinas.
National Guard Bureau officials say they are monitoring the Guard's involvement in storm response. NGB serves as a coordination point between states and with the federal government with 24-hour support.
"The National Guard is the military first-responder supporting civil authorities, helping to facilitate a unified and rapid, whole-of-government response," officials said. "We are always there to support our communities and we are always ready to support as long as needed."
In Florida, more than 4,800 soldiers and airmen had been activated as of Tuesday, according to Florida National Guard spokeswoman Maj. Caitlin Brown.
The Florida Guardsmen are supporting the State Logistics Readiness Center, a logistics staging area and four shelters. They are also providing helicopter search and rescue teams and other aviation support and stands ready with high-wheeled vehicles, boats, generators and other equipment that could be used in response to the storm.
Georgia has activated more than 260 soldiers and airmen and are currently staging for a response effort, according to George National Guard spokesman Lt. Col. Patrick Watson.
In South Carolina, Guardsmen are supporting a full coastal evacuation while also providing security in the evacuated areas.
Capt. Jessica Donnelly, a spokeswoman for the South Carolina National Guard, said approximately 1,000 soldiers and airmen are activated in support of the storm response. That includes aviation and ground assets to assist in route reconnaissance and life-saving capabilities and forces that can help place sandbags in flood-prone areas, move supplies and augment civilian authorities.
In North Carolina, more than 300 soldiers and airmen are staged across the eastern and central parts of the state along with over 120 high-water clearance vehicles and search and rescue helicopters.