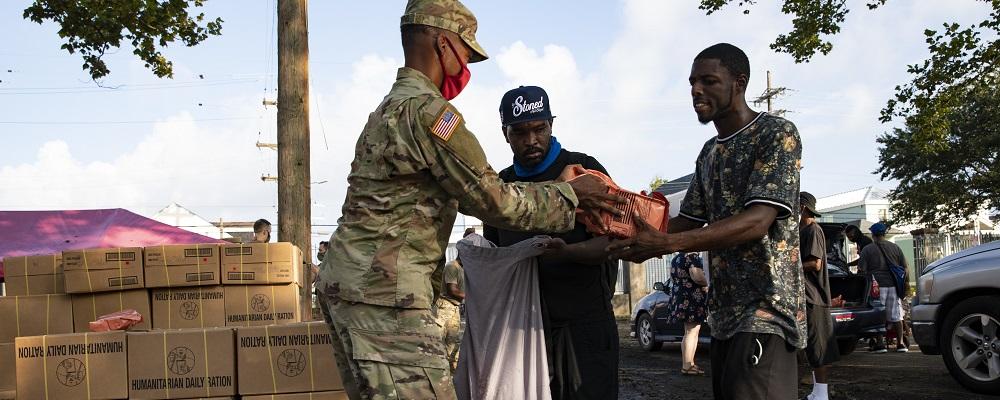 National Guard soldiers and airmen rescued hundreds of people, cleared roads and distributed food and water during operations following Hurricane Ida.
Guard leaders outlined the efforts last week. More than 8,000 Guardsmen from 11 states deployed to Louisiana in the wake of the storm. They brought 36 aircraft, 74 boats, 198 high-water vehicles, generators and engineers.
Ida hit Louisiana on Aug. 29 as a Category 4 storm, with sustained winds of 150 mph and heavy rainfall. It caused catastrophic flooding and damage, leaving thousands without power in Louisiana and Mississippi.
The Guard's efforts included search and rescue sweeps of 31 parishes, during which 393 people and 60 pets were carried to safety. That includes 135 people and four dogs who were trapped by flooding in LaPlace, Louisiana.
At the same time, the Guard cleared 403 miles of roadways clogged with debris, allowing rescue personnel and relief organizations to access hard-hit communities. As of last Wednesday, the Guard had opened 17 locations to distribute food and water to those in need, with plans to open up 40 in all.
"This is definitely one of those situations when the going gets tough, the tough have to get going," said Maj. Gen. Lee W. Hopkins, Louisiana's assistant adjutant general.
Hopkins said he anticipated the Guard distributing millions of meals and bottles of water.
In addition to 4,300 members of the Louisiana National Guard, other states supporting the efforts included Alabama, Arkansas, Florida, Georgia, Kansas, Mississippi, Missouri, Oklahoma, Mississippi, North Carolina and Texas, with many others committed to help or offering assistance as of last week.
Gen. Daniel R. Hokanson, the chief of the National Guard Bureau, said the storm response was another example of the Guard fulfilling its mission.
"Here at home, the National Guard continues to live up to its promise of Always Ready, Always There," he said.
Hopkins said peak Guard operations in Louisiana would last for two or three weeks, with the Guard ramping down its presence once power and water are restored and stores reopen.
"Our soldiers and airmen have been doing remarkably hard work," he said. "We have a lot left to do to recover."