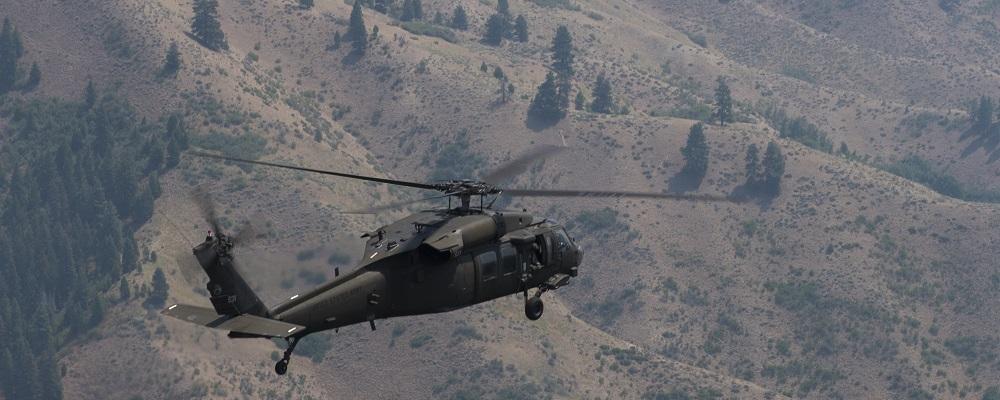 Three members of the Idaho Army National Guard died Feb. 2 after their UH-60 Black Hawk helicopter crashed in mountains near Boise, Idaho.
Chief Warrant Officer 3 George "Geoff" Laubhan, Chief Warrant Officer 4 Jesse Anderson and Chief Warrant Officer 3 Matthew Peltzer were assigned to the 1st Battalion, 183rd Aviation Regiment.
The Idaho Guard said the three men were "fathers, husbands, brothers, sons, friends and much more."
"As experienced pilots and dedicated citizen-soldiers, their loss will forever impact our organization," officials said.
The crash was the third involving a National Guard UH-60 since December 2019. Nine Guardsmen have died in the accidents.
Officials said the Idaho soldiers were undertaking a routine training flight, albeit in difficult conditions.
"There was snow," a spokesman told ABC News. "It's been poor conditions on and off throughout the period. It hampered our initial air search efforts when we were notified that the emergency locator had triggered. As a result we immediately launched a ground crew to search."
The Idaho crash and a deadly Jan. 20 crash involving the New York Army National Guard remains under investigation.
The third crash, which killed three Minnesota Army National Guardsmen in December 2019, was found to be caused by mechanical failure and human error, according to reports. Investigators found that an engine failed during a maximum power check while the second engine was in an idle setting, causing a dual engine-out condition.
The first engine failed because a hydromechanical unit was incorrectly installed, officials said.
Following the latest crash, Sen. Kirsten Gillibrand, D-N.Y., called for an investigation into the "disturbing pattern of incidents involving the UH-60 Black Hawk helicopter."
Gillibrand also cited an August 2020 crash that killed two members of the active-component's 160th Special Operations Aviation Regiment at Fort Campbell, Kentucky, who were flying a MH-60, a variant of the Black Hawk.
"Three crashes involving the National Guard's use of the UH-60 in just over a year raises significant concerns about a systemic issue with the Black Hawk helicopter operation cycle," she said in a letter to Defense Secretary Lloyd Austin. "The further case of the MH-60 crash raises additional questions that we urgently need answered."
Gillibrand wants the Defense Department to "take all necessary steps to promptly investigate these incidents to determine if they fit a larger pattern of malfunction with the UH-60 Black Hawk helicopter."
She also wants the Pentagon to brief Congress on the findings of the investigation; any "mechanical, software, electrical, or other problems" found on the UH-60; and DoD plans to rectify issues.