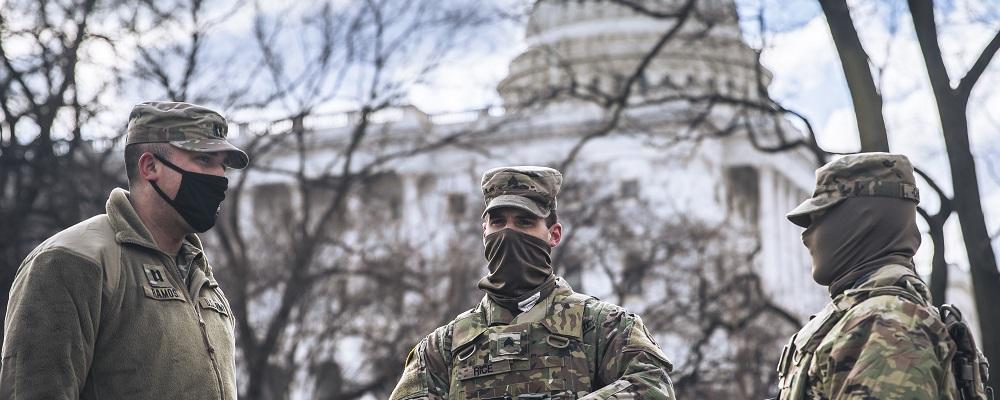 The National Guard ended 2021 in much the same way the year began, with thousands of Guardsmen serving their states and nation at home and abroad.
That includes ongoing COVID-19 missions, domestic responses to natural disasters and numerous deployments in support of combatant commanders around the world.
While the year 2020 was dubbed the "Year of the Guard," 2021 proved the force, positioned in 54 states and territories, continues to be at the forefront of homeland response missions and the nation's defense.
Gen. Daniel Hokanson, chief of the National Guard Bureau, said the force kept its promise to be "Always Ready, Always Ready."
"As the combat reserve of the Army and Air Force, we are trained and equipped to fight our nation's wars, but in times of emergency, those same people, training and equipment provide us the ability to respond to our communities when they need us most," Hokanson said, per a NGB release.
One of the more high-profile missions of the year came in early January, when more than 26,000 Guard troops were mobilized on short notice to the District of Columbia to support federal and local officials following a riot at the U.S. Capitol.
The force, comprised of Guardsmen from every state and territory, helped ensure a peaceful transfer of power during the 59th Presidential Inauguration on Jan. 20, with thousands remaining in the nation's capital to help bolster security into May.
The Guard has also supported COVID-19 missions in their home states throughout the year, helping to staff medical facilities, conducting testing, transporting and distributing vaccines and providing people, training and equipment to their states.
As 2021 drew to a close, more than 12,000 Guardsmen from several states and territories remained assigned to COVID-19 related missions. And Guardsmen had assisted in the administration of more than 13 million vaccine doses.
Numerous states also called their Guardsmen to action in response to domestic disasters, such as floods, tornadoes, hurricanes and wildfires.
The largest single domestic response came in late August, as nearly 9,000 soldiers and airmen from 14 states came together in the aftermath of Hurricane Ida, which made landfall in Louisiana.
Guardsmen rescued nearly 400 people and 65 pets, and distributed more than 4.4 million bottles of water, 3.8 million meals-ready-to-eat and 224,000 sandbags.
One of the latest responses came Dec. 10, when a series of tornadoes left paths of damage across eight Midwest states, including Kentucky, where more than 600 Guardsmen were activated to assist first responders with search and rescue, debris removal and traffic control.
Overseas missions included key roles in operations around the world, including Iraq and Afghanistan, with both conflicts ending combat operations for U.S. troops.
Deployed units included the California Army National Guard's 40th Combat Aviation Brigade, Virginia's 29th Infantry Division and numerous lower echelon forces.
The withdrawal from Afghanistan in August saw Guardsmen providing airfield security, airlift and other support as tens of thousands of U.S. citizens and Afghan refugees fled the country.
Key units included the 1st Combined Arms Battalion, 194th Armor Regiment of the Minnesota Army National Guard, which provided the largest Guard force in Kabul, and the Massachusetts Army Guard's 1st Battalion, 101st Field Artillery, which provided counter rocket, artillery and mortar support and is believed to have fired some of the "last shots" by U.S. troops in Afghanistan as it shot down rockets fired on Hamid Karzai International Airport.
In Kuwait and Qatar, the Virginia Army Guard's 111th Theater Engineer Brigade oversaw construction to support the influx of refugees, while Guardsmen from numerous units in the U.S. also helped care for and process Afghans seeking to move to the United States.
Guard leaders also note that, amid numerous domestic and overseas missions, the Guard also grew the State Partnership Program, which now includes 85 partnerships with 92 countries – or just under half the world's nations.
"Whatever the mission – fighting America's wars, securing the homeland or building partnerships – our soldiers and airmen provide extraordinary service to their communities and our nation," Hokanson said.