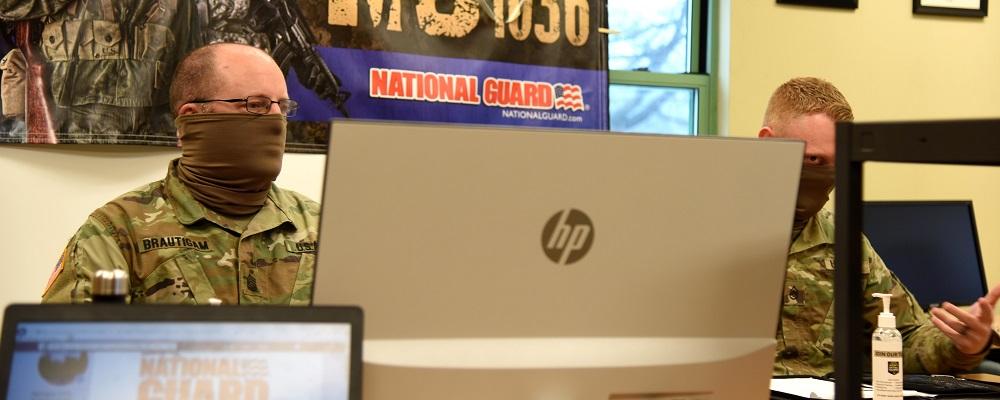 National Guard recruiters are getting creative in order to meet potential future soldiers and airmen with stay-at-home orders still in place around much of the country.
Many are embracing technology and using a variety of social media platforms to reach recruits and spread their message of the benefits of joining the Guard.
"It's more virtual. Our recruiters are using social media platforms like Facebook, Twitter, Instagram and Twitch to share more content," said Joseph Siemandel, a spokesman for the Washington National Guard. "The COVID is not slowing down recruiting, but recruiters are having to get more creative. It's a little change in the norm."
Some recruiters are still meeting potential recruits in person. However, most of these visits are now scheduled beforehand, allowing recruiters to control the number of people in the office and implement social distancing practices.
"Recruiters are doing more one- and two-person recruiting, which has made it more personal," Siemandel said. "They aren't going to job fairs and high schools because of the closures."
Meanwhile, recruiting success is fluctuating between states. In Arizona, for example, officials are reporting a spike in the number of young people inquiring about Guard careers.
"It's been overwhelming since the Guard got deployed," Capt. Jose Narcia told 12 News in Phoenix. "People and recruiters are getting to see firsthand what we actually do and how we actually get to support people."
Other states, such as Florida, have seen dips in their recruiting numbers.
"A combination of 'Stay-at-home orders,' closing of schools and fear of unknown impacts of COVID-19 have severely impacted the market's availability," said Lt. Col. Patrick Pelletier, commander of the Florida Guard's recruiting and retention battalion. "Our recruiters have had to do a quick pivot from previously successful recruiting methods to new methods that do not involve immediate face-to-face interactions."