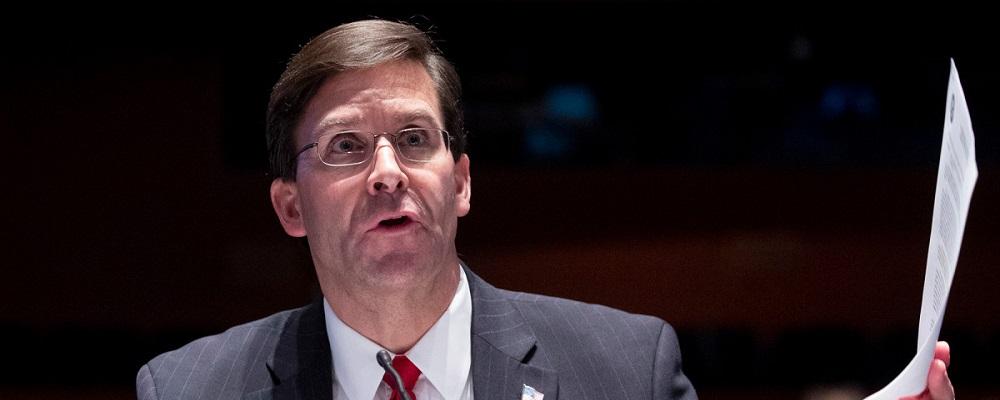 Defense Secretary Mark Esper told the House Armed Services Committee last week that National Guardsmen protected Americans' right to freely assemble peaceably in the wake of some violent protests following the death of George Floyd at the hands of a Minneapolis police officer. 
Esper emphasized that while active-duty forces were on alert to help civilian authorities, none were used.  
In prepared remarks, the secretary praised Guard soldiers and airmen for their actions. 
Governors in 33 states called upon their Guard forces to restore order and safeguard communities, businesses, monuments and places of worship. And federal authorities called out the District of Columbia Guard.
''In doing so, the National Guard once again demonstrated its commitment to upholding the rule of law and protecting life and liberty, so that the violent actions of a few do not undermine the rights and freedoms of law-abiding citizens, or jeopardize the livelihood of hard working Americans,'' Esper said.
The secretary emphasized that all members of the armed forces swear an oath to support and defend the Constitution, ''and we commit to doing so in our longstanding tradition of remaining apolitical.''
Freedom of speech and assembly are guaranteed by the Constitution, ''and in cities across America, National Guard personnel were devoted to protecting these sacred rights, despite the risk to their own safety and personal well-being,'' Esper said. 
He stressed that he firmly believes the Guard is best suited to provide domestic support to civil authorities in support of local law enforcement.
''Using active-duty forces in a direct civilian law enforcement role should remain a last resort, and [be] exercised only in the most urgent and dire of situations,'' he said. 
At the height of the civil unrest, more than 43,000 Guard soldiers and airmen assisted federal, state and local law enforcement agencies in restoring and maintaining order, protecting communities, and defending the rights of all Americans to protest safely and peacefully, he said.
''At the peak of response efforts in the District of Columbia, more than 5,100 National Guard personnel from the District of Columbia National Guard and 11 States — Florida, Idaho, Indiana, Maryland, Mississippi, Missouri, New Jersey, Ohio, South Carolina, Tennessee and Utah — were authorized by their respective governors to provide support,'' he said. 
The Guardsmen's authorized duties included protection of federal property; point security, crowd management and access control; acting as a quick response force; medical support; and transportation of personnel and supplies, he explained.  
They "did not advance on the crowd," fire rubber bullets or use chemical agents such as tear gas. Their role was static support, Esper said.
But the Guard did have assets in the air. A Guard helicopter was videoed performing low-level flights over a crowd of protesters. The incident was investigated by the Pentagon after critics said the events called the Defense Department's apolitical role into question.
Results of the investigation have not been released.