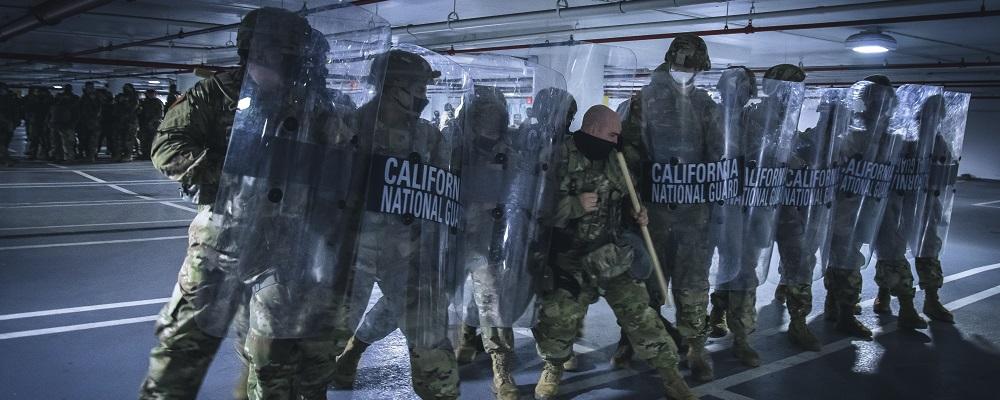 Following the "Year of the Guard," some officials are now pushing for a larger force and more parity with their active counterparts.
Last year proved to be the busiest in history for the Guard's domestic mission, with a long-running pandemic, bouts of civil unrest, national disasters and more. That came in addition to the Guard's overseas requirements.
Now, with the National Guard taking center stage in protecting the capital following a deadly riot in Washington, D.C. earlier this year, leaders in several states are pushing for more troops and better benefits.
"The bottom line is that as Guard mission sets continue to increase, the demand signal for the Guard goes up," said Maj. Gen. David Baldwin, adjutant general for California. "We're largely victims of our own success in that regard. To that end, the Guard is not big enough and we need to grow."
Baldwin and other Guard leaders discussed their ongoing missions and their needs during a roundtable discussion hosted by the National Guard Bureau last week.
Some states, including Florida, have warned their Guard forces are not large enough for the ongoing requirements. Maj. Gen. James Eifert, the adjutant general of Florida, has said his state does not have the manpower to support Florida on its hypothetical worst day.
Maj. Gen. Bret Daugherty, the adjutant general of Washington, said the Guard has been "consumed" with domestic operations. But he added that overseas deployments have not let up "one iota."
"If we had a little bit more force structure, it wouldn't be such a stretch to get these missions accomplished," he said.
And those who are in the force need better benefits, the leaders warned, noting the hard work Guardsmen have conducted over the past year.
"The benefits that our soldiers and airmen receive on Title 32 missions and state active-duty missions are not commensurate with what our Title 10 brothers and sisters receive and we need to take a look at that because it has an impact on our ability to retain the top-quality people that we have serving in today's National Guard," Baldwin said.