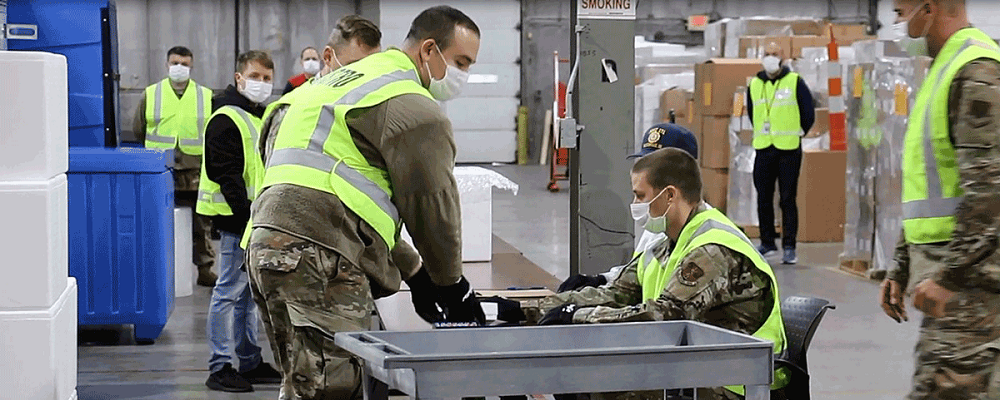 Officials in at least 15 states and territories are preparing to use Guard soldiers and airmen to distribute the first COVID-19 vaccines. Others are expected to follow suit.
Tens of thousands of Guardsmen have been involved in pandemic-related efforts, to include sanitizing facilities, distributing food and testing for the virus. And it appears thousands more could help distribute long-awaited vaccines.
In Ohio, Guardsmen are holding daily drills for vaccine distribution. Officials will have limited time to handle the vaccine developed by Pfizer, given the requirements to keep it in ultracold storage. The Pfizer vaccine is one of two expected to be ready for public use in the coming weeks. The other is developed by Moderna.
Officials said they will have just two minutes to unpack and repack the vaccine to be distributed across the state.
"Practice is a lot, just build that muscle memory and make people comfortable with the process," an Ohio Guard official said.
Distribution efforts in some states will be led by the Guard. That includes West Virginia, which has assigned its adjutant general, Maj. Gen. James Hoyer, to oversee the effort.
"I want folks to understand that the Pfizer vaccine, it's great that we will be getting it, but we need to understand that it is a complicated vaccine to distribute," Hoyer said last week. "It has environmental issues related to temperature, the doses have to be broken down once they come to the state of West Virginia, so a lot of work will need to be done to meet our objectives."
Some states expect to receive the first shipments of the vaccine as early as this week.
The planning comes as positive cases across the nation continue to rise amid all-time peaks for COVID-19. In some parts of the nation, hospitals are warning that they are reaching capacity.
Distribution efforts will vary by state. Requests for help from the Guard could come from state health officials or the Defense Department, which is heading Operation Warp Speed to help develop and distribute the coronavirus vaccines.
The Guard could provide helicopters, trucks and other equipment to move vaccines across states and soldiers or airmen to help plan the distribution efforts.
Meanwhile, many states will continue to use Guardsmen to help test for the virus.
In many states, the COVID-19 deployments have become the longest sustained domestic deployments in their histories.