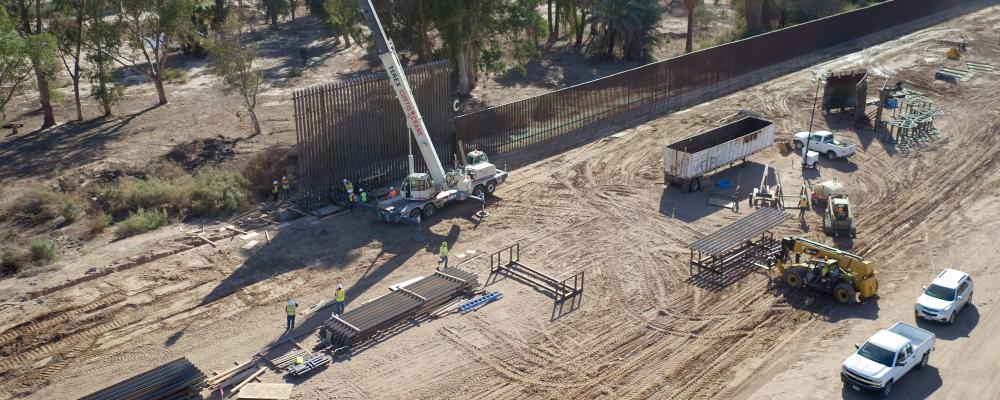 A congressional tally of unobligated military construction funds that could be diverted to help build a wall on the southern border includes hundreds of millions of dollars currently slated for National Guard projects.
The funding represents all Guard military construction projects approved as part of the fiscal 2019 defense budget and includes projects in Alaska, California, Hawaii, Illinois, Louisiana, Montana, Nevada, New Hampshire, New York, North Dakota, Ohio, Pennsylvania, South Dakota and Virginia.
The list was obtained by the Federation of American Scientists and represents projects that could be delayed in favor of providing up to $3.6 billion in unobligated military construction funds to instead build the border wall. Project funding is considered unobligated if there is no purchase, contract or other legal obligation in place.
Guard projects on the list include $232.4 million in funding for specific construction, as well as tens of millions for unspecified minor construction and planning and design. The list includes:

•    A $27 million office building, warehouse and central issue facility planned for Joint Base Elmendorf-Richardson in Alaska;
•    An $8 million C-130J flight simulator facility at Channel Islands Air National Guard Station in California; 
•    A $17 million low observable/composite repair facility for the F-22 at Joint Base Pearl Harbor-Hickam in Hawaii; 
•    A $9 million fire crash/rescue station at Gen. Wayne A. Downing Peoria International Airport in Illinois;  
•    A $5 million automated record-fire range in Marseilles, Illinois;
•    A $15 million aerospace-control-alert apron at Naval Air Station Joint Reserve Base New Orleans in Louisiana;
•    A $15 million National Guard Readiness Center in Malta, Montana; 
•    A $32 million National Guard Readiness Center in North Las Vegas, Nevada;
•    A $15 million National Guard Readiness Center in Pembroke, New Hampshire;
•    A $20 million security forces and base communications facility at Francis S. Gabreski Airport in Westhampton Beach, New York;
•    A $32 million National Guard Readiness Center in Fargo, North Dakota;
•    A $7.4 million automated, multipurpose machine-gun range at Camp Ravenna in Ohio;
•    An $8 million operations and training and dining-hall facility at Fort Indiantown Gap in Pennsylvania;
•    A $15 million National Guard Readiness Center in Rapid City, South Dakota; and
•    A $10 million cyber operations facility at Joint Base Langley-Eustis in Virginia.
All, some or none of the money appropriated for the projects could be diverted for the wall, but Pentagon officials have previously said no projects would be canceled as a result of the funding being diverted due to the national emergency declared by President Donald Trump.
That emergency declaration, centered on threats along the southern border, is being challenged in the courts and by some in Congress.
The Associated Press has reported that officials are also looking at using $1 billion in leftover funds from military pay and pensions.