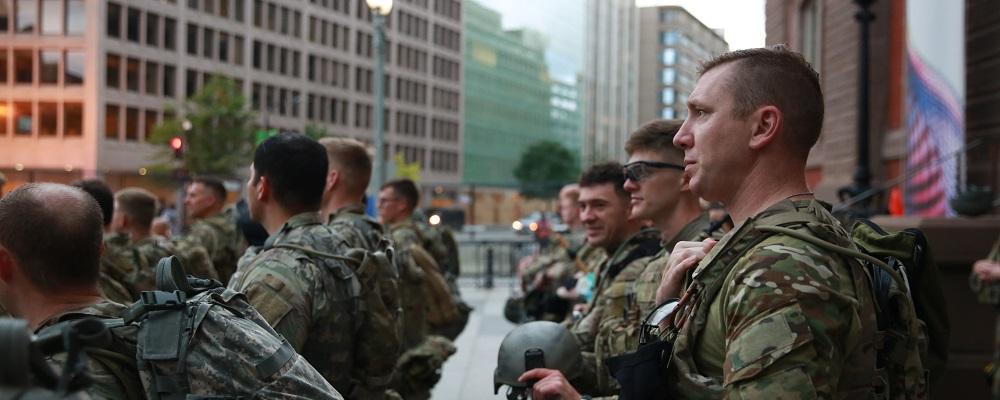 Tens of thousands of Guardsmen remain on duty for domestic operations, even as the historic response appears to wind down.
Nearly half the number of Guardsmen from a week ago remain on mission related to the coronavirus pandemic and civil unrest related to alleged racial injustice.
That number had approached 100,000 soldiers and airmen a week ago, according to the National Guard Bureau. It had dropped to just more than 49,000 Guardsmen as of Monday morning.
The response, which began with pandemic missions that began in March, was the largest domestic Guard mission in history, topping the approximately 51,000 Guardsmen who were activated in 2005 following Hurricane Katrina.
The missions took place while tens of thousands of Guardsmen remained deployed for overseas missions. As of Monday, more than 84,000 Guardsmen were deployed for homeland or overseas missions, according to NGB.
Most Guardsmen, about 37,000, are currently on missions related to stopping the spread of COVID-19. Those missions are taking place in all 50 states, three territories and the District of Columbia.
More than 7,000 Guardsmen remain activated for civil unrest mission in support of local officials. That's a considerable drop from more than a week ago, when more than 40,000 were deployed to assist state and local officials amid a wave of protests following the May 25 killing of George Floyd, an unarmed black man killed while in police custody in Minnesota.
While largely peaceful, some protests over the killing were marred by violence. Guardsmen were deployed to keep the peace and protect key infrastructure in major cities. The response included thousands of Guardsmen from across the nation who were deployed to Washington, D.C., to help protect national monuments and federal buildings.
Late last week, Defense Secretary Mark Esper said he has ordered an after-action review of the Guard's response in such missions. The review will specifically evaluate the Guard's efforts working with local and federal law enforcement.
Previously, Esper has said the Guard was best suited for providing support to civil authorities. He is a former Guardsman.
The use of the military, including Esper's role in a presidential photo-op that was preceded by an attack on peaceful protestors, has come under scrutiny in recent weeks amid the nationwide protests.
Army Secretary Ryan McCarthy will lead the review, according to the Pentagon.
According to Military Times, Guardsmen in Kentucky have been implicated in the shooting death of a man who fired his gun as law enforcement approached during a night of protests.
In other states, Guardsmen have reported injuries at the hands of protestors or have contracted COVID-19 while on civil unrest-related missions.
A separate investigation is underway into the use of a D.C. National Guard helicopter which flew low over protestors in Washington, D.C. Videos show the helicopter snapping tree branches and spraying protestors with rotor wash.