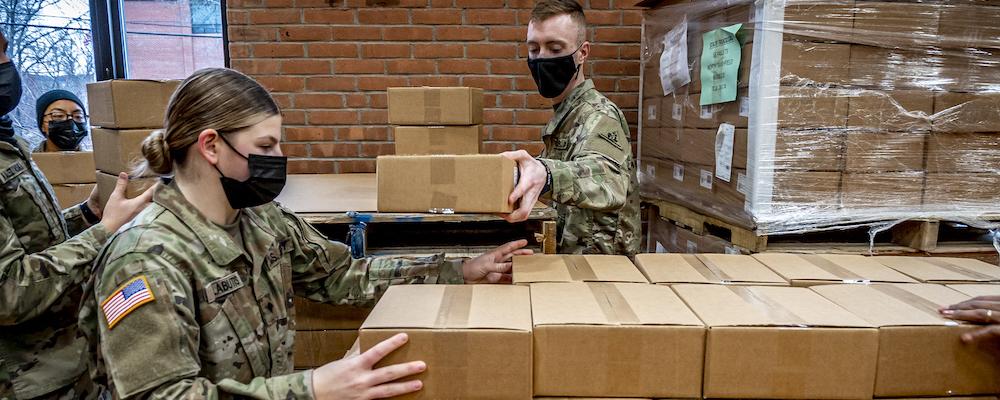 As the COVID-19 pandemic enters its third year, the National Guard is doing its part in assisting where it can.
More than 12,800 Guard soldiers and airmen are currently supporting COVID operations under the command of their governors, according to the National Guard Bureau.
With the omicron variant wreaking havoc across the nation, governors from several states have activated members of the Guard to help in various capacities, ranging from assisting in understaffed hospitals to helping to hand out masks and at-home COVID tests.
Georgia Gov. Brian Kemp announced in a statement Dec. 30 that of the 2,500 troops that would be deployed throughout the state, 196 Guardsmen were deployed Jan. 3, with about 100 being sent to hospitals while 96 assisted the Department of Public Health at testing sites.
Kemp said that the Georgia Department of Community Health would provide assignments to the remaining 2,300 troops depending on which parts of the state are in most need of assistance.
Ohio Gov. Mike DeWine has already dispatched 2,300 Guardsmen to address the state's hospital staffing shortages.
"Everybody is on the same page here, let's deploy them where they are needed the most," he said at a Dec. 29 news conference.
Massachusetts Gov. Charlie Baker deployed 500 members of the Guard to assist overwhelmed hospitals.
They were expected to assist in five major areas, including security, escorting patients between hospital rooms, nonemergency transportation, meal delivery to patients and watching over patients at risk for self-harm.
Maine Gov. Janet Mills announced Dec. 13 that Guard soldiers and airmen would deploy to 10 health care facilities across the state to help relieve hospitals experiencing capacity challenges and to maintain access to inpatient health care for Maine residents amid a sustained surge of COVID-19.
Connecticut Gov. Ned Lamont announced Dec. 28 that he would be calling up nearly 100 Guard troops to assist in the distribution of three million COVID-19 at-home rapid tests and six million N95 masks.
"The Connecticut National Guard has provided an incredible amount of support throughout this pandemic, and I thank them for their ongoing commitment to the residents of our state," he said.
NGB didn't have a definitive timeline on when the Guard's COVID mission would be over as governors are activating their troops on a state-by-state basis to address their needs.
In November, President Joe Biden extended the Title 32 authorization allowing Guard troops to continue pandemic response with funds from the Federal Emergency Management Agency through at least April 1.