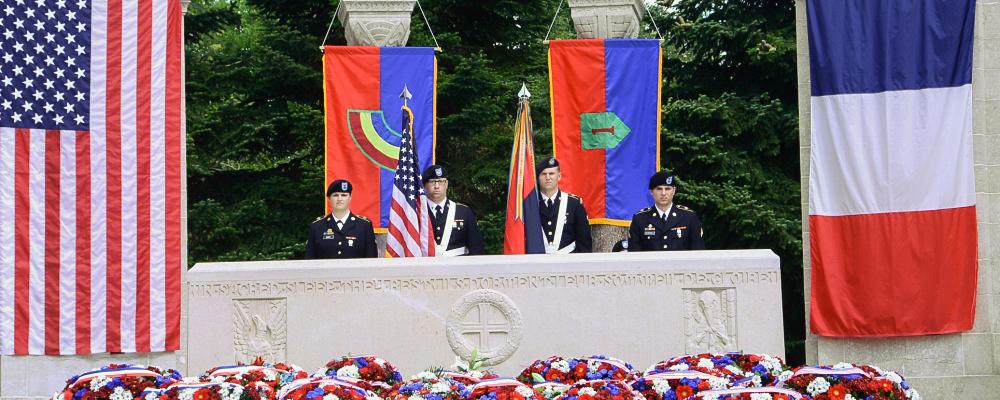 Gen. Joseph L. Lengyel was the senior U.S. military attendee at the World War I Centennial Commemoration at Oise-Aisne American Cemetery in France July 28, joined by Command Sgt. Maj. Christopher Kepner, the senior enlisted advisor to the chief. More than a dozen adjutants general from states that contributed to the American Expeditionary Forces also honored the memory of service members who fought and died in "the war to end all wars."
"We are gathered here to remember the service of Americans who gave 'the last full measure of devotion' to their country," Lengyel said, quoting President Abraham Lincoln, "and to find meaning in their service through this remembrance."
Remembrance is important to sustain an understanding of our obligations in a free society, Lengyel said.
The National Guard comprised 18 of the 43 divisions the United States sent to France in World War I, about 40 percent of the American Expeditionary Force. More than 103,000 Guardsmen were killed or wounded, 43 percent of all American casualties.
Lengyel was in France representing the United States on behalf of the Army and the Guard.
"We remember the battles that raged here in the fields, the forests, and the towns," Lengyel said. "We also remember the sacrifice made in the cause of freedom because the United States honors her war dead."
Lengyel also took part in other commemorations during his visit. Throughout, he emphasized France's importance as the oldest ally of the U.S., and he praised France's contributions to NATO.
As Lengyel visited a World War I commemorative festival in Fere-en-Tardenois, residents lined the streets waving French and American flags. 
"These events build upon and strengthen our relationships with our allies and partners," Lengyel said.
At Croix Rouge Farm, Lengyel left a wreath honoring the 42nd "Rainbow" Division. 
The Lafayette Escadrille Memorial Cemetery, where Lengyel also laid a wreath, bears tribute to American pilots who volunteered to fly for the French before the United States had even joined the war.  
The general also visited the Chateau-Thierry American Memorial, Aisne-Marne American Cemetery, Belleau Wood, and the Pennsylvania Memorial Bridge in Fismes dedicated to the 28th Infantry Division.
"General [John J.] Pershing, the AEF commander, said 'Time will not dim the glory of their deeds,'" Lengyel said. "We won't let it. We will never forget."