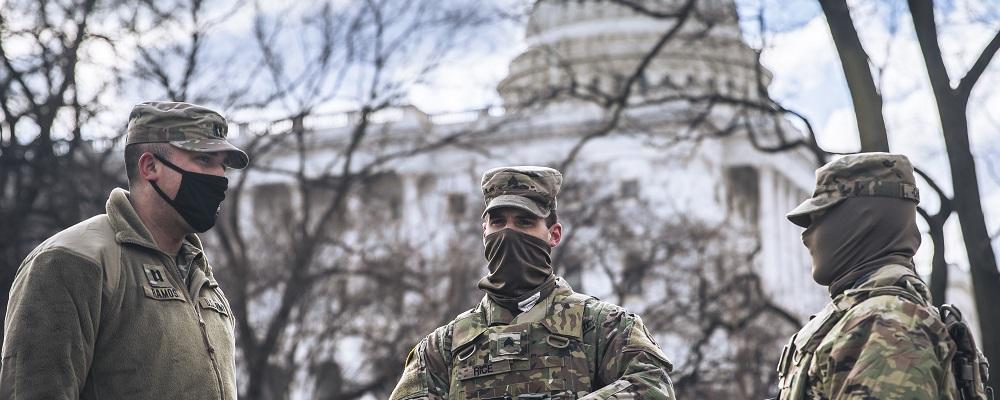 Republican lawmakers have begun to question the continued presence of National Guardsmen on Capitol Hill.
A group of House Republicans, including two currently serving Guardsmen, have asked acting Army Secretary John Whitley for a briefing to explain why it's necessary to keep thousands of Guardsmen in Washington, D.C., into March.
Others have more directly questioned the credibility of threats that have spurred the decision to keep at least 5,000 Guard soldiers and airmen on duty in the capital.
At the deployment's peak, more than 26,000 Guardsmen from all 54 states and territories were on duty for the 59th Presidential Inauguration.
Now, fewer than 7,000 remain. On Friday, those troops were visited by Defense Secretary Lloyd Austin, who thanked them for their service and pledged the support of the Pentagon.
Members of Congress, on both sides of the political aisle, praised the Guard for its professionalism and support following the deadly riot at the Capitol earlier this month and security provided amid the inauguration.
But now, some are questioning whether the troops are still needed.
"I'm aware of no specific, credible threat reporting… that justifies this continued troop presence," said Sen. Tom Cotton, R-Ark., in an op-ed for Fox News.
The letter from Republican House members, led by Rep. Michael Waltz, R-Fla., specifically asks for the Pentagon's justification in keeping the Guardsmen in D.C.
"As you know better than anyone, our National Guard men and women are deployed on short notice and pulled away from their families and jobs," said Waltz, a lieutenant colonel in the Maryland Army Guard. "Further, the Guard has endured unprecedented stress on the force in the past year given COVID-19, social unrest, natural disasters, and ongoing overseas requirements."
"The National Guard should be used as an option of absolute last resort," he added.
In addition to Waltz, the letter is also signed by Rep. William Timmons, R-S.C., who serves in the South Carolina Air Guard.