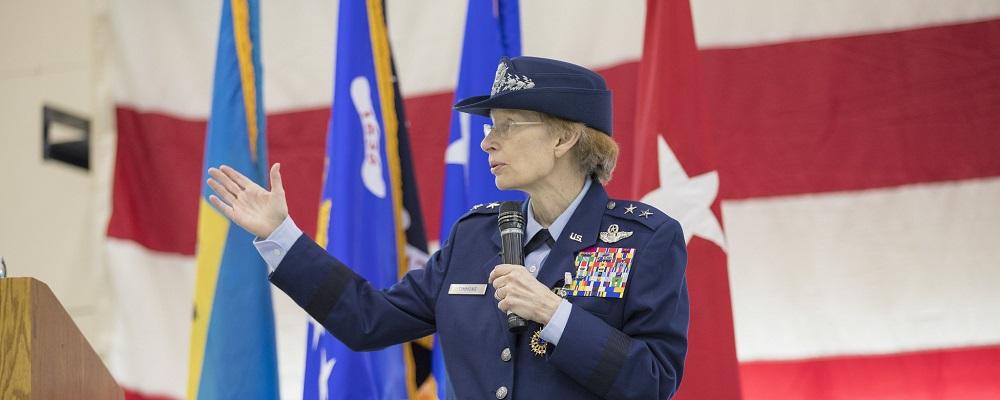 Maj. Gen. Carol Timmons — a former adjutant general of Delaware, NGAUS board member and long-time trailblazer for women in uniform — died Sunday. She was 62.
In 2017, Timmons replaced Maj. Gen. Frank Vavala as the leader of the Delaware National Guard. She was the first woman to hold the post. She retired in 2019, capping a military career that spanned 42 years.  
"General Timmons … was the epitome of a public servant," Delaware Gov. John Carney said in a statement. "She was also just a kind, decent person who put others before herself and lived a life of service."
Timmons was a veteran of seven overseas combat deployments: operations Desert Shield, Desert Storm, Southern Watch, Joint Guard, Iraqi Freedom, Enduring Freedom and Inherent Resolve. 
She served on the NGAUS board of directors from 2014 to 2019. She received the association's Montgomery Medal for outstanding support in the pursuit of NGAUS objectives in 2019. 
In addition, she is enshrined in the Hall of Fame of Delaware Woman and the Delaware Aviation Hall of Fame. 
Timmons held several leadership positions during her military career. In addition to her time as Delaware adjutant general, she once served as the commander of the 774th Expeditionary Airlift Squadron, deputy commander of the 455th Operations Group and director of mobility forces, U.S. Air Forces Central Command. 
She also flew more than 10,000 hours as a commercial airline pilot for United Airlines. A flight that never got off the ground may have been her most memorable. 
On the morning of Sept. 11, 2001, she was the first officer on United Airlines flight 23 preparing to take off from New York's JFK Airport bound for Los Angeles. 
The plane had already pulled away from the gate and was taxiing down the runway when the airport was shut down and the crew was told to secure the cockpit because there had been hijackings around the country, she told reporters several years later. 
From the other side of the barricaded cockpit door, the cabin crew relayed concern about four young Arab men who became agitated when the take-off was cancelled and fled from the plane when it returned to the terminal. 
Box cutters and Al Qaeda documents were later found in their luggage.
Timmons, the pilot and the rest of the crew were repeatedly questioned by the FBI, though the findings were never officially shared. The pilot concluded that Flight 23 would have been the next plane hijacked by terrorists if the airport shutdown order had been delayed.
She spent her time in retirement traveling on the ground to national parks and other destinations across the country. They were places, she said, she had only seen before from above. 
Funeral arrangements are not yet available.